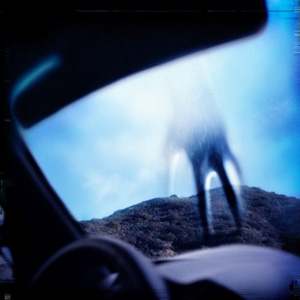 The promotional campaign for "Year Zero", NIN's new album, started back in the band's latest world tour supporting their last album
"With Teeth"
. it started off when someone realized that the highlighted letters on the concert T-shirts spelled out the phrase "I am trying to believe". The phrase turned out to be a website address talking about the concept of the new album, but it was only the beginning of a bigger and much more complicated series of clues. Reznor's clues spread out from phrases on T-shirts through weird secret internet websites, mystery phone numbers and end up on the CD itself that changes colors when heated; after listening to it of course, it gets heated, and you'll find a binary code forming yet another website. All of this comes before even talking about the actual album.
While all artists talk about the modern world we live in, capitalism, and the way we look on religion and politics this day, Reznor does what he always does and keeps a few steps ahead. He talks about the future society. The world Reznor portrays is basically based on the blueprints of George Orwell's "1984". A cold, industrialized and impersonalized world where only the strong survives. It's obvious that religion and politicians will still get the hardest beatings, no?
The lyrics on the album are raw, angry, and sometimes painfully direct. Just like Reznor's well-crafted sounds, which are probably the most esthetic noise you'll ever find. Reznor, who was a defining figure in bringing industrial rock to a wider crowd, releases an album, which segues the quite accessible line of his former "With Teeth" album. You don't have to be a Nine Inch Nails fan to love this album.
Someone once told me that every true masterpiece will always capture a bigger crowd than its usual or intended crowd. "Dark side of the moon" is a classic example; having all the Floyd's characteristics, but not as extreme as "Meddle" or "Atom hear mother", but still, an undeniable masterpiece by all manners. Of course true Floyd fans will claim other albums as their favorite ones, but this will still be the all time masterpiece. This is the way "Year Zero" should be looked upon.
On first listening it's already noticeable that most of the rhythmic sections here are quite conventional, some might even say more black music oriented than the industrialized abstract sound that can be found on early NIN records. This already makes it much more approachable and adding a few catchy vocal melodies does so too. But still, that roughness, that distorted noise which makes people wonder about the quality of your speakers, domains the album.
The opening track "Hyperpower" is a display of heavy machinery building up on drum loops and extra-distorted guitar distortion. The following track "The beginning of the end" on the other hand, is easier to take in. But don't worry, tracks like "Capitol G", "My Violent Heart" and "God Given" make up for every catchy melody. And I still wait anxiously on every single listen to "The Great Destroyer", which can easily be looked at as a tribute to Chris Cunningham's "Rubber Johnny" soundtrack.
Old NIN fans might be quick to judge because of the album's accessibility, but in times like these you have to remember that accessible doesn't necessary means bad. The fact that Reznor can make what most people would define as a drilling-bit right into your brain, and turn it into something somewhat accessible for normal folks, truly sets him off as a genius. Thank god for Trent Reznor.