Graveyard Dirt
Interview with: Graveyard Dirt
2008-03-13
Ireland's
Graveyard Dirt
are a band back from the dead. Born circa 1994 - deceased 1997, it seems that in doom metal resurrection is possible.
Sticking to a basic formula of twin guitars, bass, drums and a vocalist their recently released EP – Shadows Of Old Ghosts is easily one of the best to come out of the doom genre in recent years
We Spoke with the band about the EP, their origins, and where they're headed now that they're back: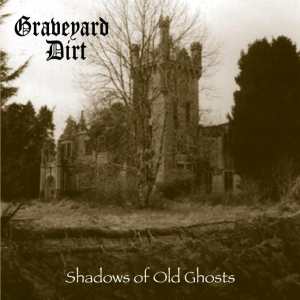 Hey guys, first- welcome back! First I'd like to "talk" about the new EP, what can you tell us about and the three songs it contains?
Thanks Alon , its good to be back.The EP was released in Sept 2007. The opening track was written around the same time as we were recording the other 2 tracks. Those 2 tracks were originally written around 1996.However we did add new music to both tracks,only a small section in "Tearless Lament" but quite a lot was added or re-arranged for the track "Gathering Storm".
What is the structure on the cover of the EP? Why was it chosen as the cover?
That was the ruin of a castle not too far from where we live. It was in a very spectacular location. Hidden away in the middle of a heavily wooded area on the shores of a large lake. An almost secret place that I used to visit quite often. Very magical! Tragically however not long after I took that photograph the castle and all its grounds was bought by a group of American business people who built a new hotel and large car park onto the old castle. They did restore the building of course also but it no longer has that sense of mystery.Many of the huge trees were cut down and it no longer is hidden from the world. We chose it because it once had that sense of a lost age. The actual title came later.
How would you say your current material sounds in comparison to Of Romance And Fire?
I think the new songs sound a lot better, much heavier for a start.
I'd say the actual 'sound' is similar in the sense that its recognizable as the same band. The quality of the sound however is much improved.
The old demo was so long ago and things move on .Also we spent much more time on the new EP so we were able to refine things if that's what we wanted to do.
The obvious reference points to your music are early Anathema and My Dying Bride, do you see the resemblance? Were those two bands an influence when you started out?
I do find a few minor similarities in style here and there but I don't hear much resemblance in our sound to be honest. Both of those bands had an impact of some kind in our early days I think its fair to say. They were both bands that we liked to some extent although after a while my interest in both bands waned. I still like some of what they do nowadays but its usually only a few tracks off each album and not the entire thing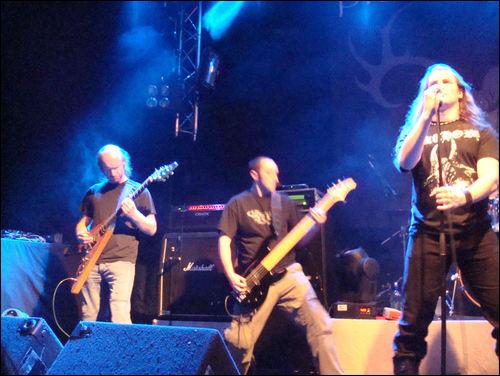 Speaking of when you started out, when and how did that happen?
That was some time about 1994 I believe, Paul and myself had been in a band together called Lucifyre that ran its course, then Paul and David were in a band called The Ghost of Genevieve along with Mark our bass player from those days.Paul left that band and they too ended after a while. Meanwhile Paul and I started Graveyard Dirt and after a while David and Mark joined and the rest ,as they say, is history.
What do you recall from the Irish metal scene when you guys started out?
I remember it felt good to be a part of it but also that we were isolated from where most of the bands of that time were enjoying the friendship and camaraderie that goes with being a part of a movement of any kind.Bands such as Thy Sinister Bloom,Arcane Sun and of course Primordial to name but a few were all rising at that time and to be trading demos with such bands was great.
How active was the band in it's early days? What kind of gigs did you do back then?
Gigs were always difficult for us due to our location. Local gigs would have been a waste of time, there simply wouldn't have been enough people familiar with this style of music to make it worthwhile.We did manage to play a few gigs in Dublin after the demo was released.Once Ade the drummer left though even that wasn't really an option we had.
To what extent did your Irish roots influence your music or lyrics?
I guess our upbringing ,our location, our surroundings ,our history all of these things influence your thinking every day of your life from a young age and are evident in most things we do, more so where lyrics are concerned I think.But possibly also in the moods we try to include in the music.Its something that is most likely always there but unless you analyse it you're unaware of it.
Why did you guys break up when you did?
We always had trouble finding a suitable drummer that was both capable and also interested in this style of music. Any drummers that we did like always moved on or had other priorities. After we signed to Ars Metalli we had high hopes but these were short-lived and on top of that it was at this time that David was suffering with problems with his left arm that was preventing him from playing the guitar.After a while and no movement with Ars Metalli we ended up just fading away and eventually David chose to pursue his classical guitar studies.
What was The Ghost Of Genevieve?
That was the band that David and Paul formed before Graveyard Dirt. Paul left,they carried on for a while,recorded a demo that was never released in any quantities and eventually called it a day.
How did you guys decide on reforming the band, and why now?
It was something I'd always hoped might happen during our long absence and something that we had tried to do a few times but without really making the effort.For it to happen properly we needed Paul,David and myself to all want to do it and also to have the time to see it through.Once we were all free to dedicate the time required then we got lucky and found Gary.A drummer that was able and willing to join but most importantly , into our music.That was always the problem in the past so when that happened I think we all breathed a sigh of relief.
The kind of music you play is sadly quite rare these days, did you intentionally go for a traditional doom metal sound, instead of updating it to fit current trends
There are many that don't consider us traditional doom metal at all actually and its not something that concerns us too much.We just wanted the new release to be recognizable as Graveyard Dirt but with an obvious improvement in all aspects.So I guess that was the only intention we had during the recording process.Also its difficult to say what category we fit in.There's always someone that will disagree with whatever label is used to describe 'doom' bands.
Are there specific ways to capture the exact sound of classic British doom as you did? A certain approach when playing? Certain ways of producing it?
Most of the similarities come from the actual writing of the tracks I tend to think.To recapture a degree of our 'old' sound we used older amps which may have helped.The actual playing , again that's one of those things that is probably best not being over analysed and allowed to flow as naturally as possible . As for the production as long as it sounded good to our ears then we were happy.Thats not to say that we didn't sweat over having things done correctly.David deserves most of the credit for the production I should point out.
What about the band's lyrics? What are the subjects you deal with?
There's no rules regarding subject matter when it comes to the lyrics.Anythings possible as long as its something that interests us.Of course for it to work the lyrics need to fit the music,both in structure and content.We have a touch of melancholy within the music and therefore try to match that with lyrics that complement it. Sometimes they are inspired by something real (Rise fallen skies is about a haunting that allegedly happened many years ago) but most of the time they come from our imaginations and usually ,but not always,describe the more negative human thoughts or emotions.Occasionally we get a glimpse of the nicer aspects of planet Earth and write about that too!!
What are your opinions about the current metal scene in Ireland today, is it very different than the one you were active in back then?
There are a lot more bands making the grade these days for sure .Many of the bands have recordings released or play quite regularly.Also the people involved in organizing such events are more dedicated to doing just that,bringing in well known international acts too.So now seems like a healthy age for the Irish scene in general.It all depends on what a band expects to get from being a part of it I think though.We recently supported Primordial at the launch gig for their new album,700+ people turned out for that with many from overseas so I guess that's a good sign on the surface but in all honesty of all the Irish bands only Primordial could expect such a turnout. So to have been a part of that night alone was kinda special.
How did you meet and decided to work with Lugga Music?
I had met Adrian once , very briefly but I knew that he had been a member of Mourning Beloveth.I mentioned that we were restarting Graveyard Dirt and he offered to help.It was quite some time later that I emailed him to say we were nearing completion of the EP and ask him if he was still interested in promoting it for us through
Lugga Music
.Thankfully for us he was as without his help we wouldn't be talking to you now Alon.
What are your plans now? A full length release? Gigs?
At the moment we are arranging some new material with the intention of recording a full length release this year if at all possible.Gigs too are part of our plans for 2008.After the Primordial gig we all agreed that there's no way we're gonna disappear for another 12 years!!
Thank you for your time
Alon Miasnikov