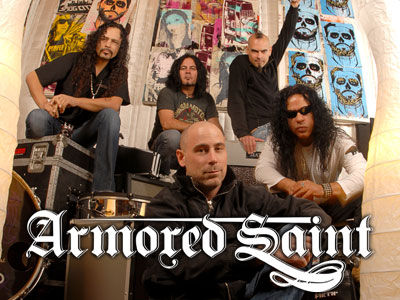 Tell us whats new with the band ?
Armored Saint
"La Raza" comes out tomorrow March 16
th
, 2010 on
Metal Blade Records
.
I'm actually recording a new Record with my other band "Black Raven"...
my Brother, Phil Sandoval is playing guitar and Daniel Hicks is playing the American Indian Flute. It is Amazing and will be out this summer, it is called "Native Knight".
What type of music you listen to mostly and what are the biggest influences on your music?
I listen to everything... Anything with heart and a good song.
John Bonham on my Drumming for sure and Phil Rudd as well.
Who were the musicians who made you pick up the drum sticks and want to play?
Led Zeppelin, John Bonham, Simmon Phillips, David Weckl, Buddy Rich, Louie Bellson and the list goes on....
What Drummers you like best
Steve Smith, Niel Peart, Steve Gadd, Jeff Poccaro RIP...there are so many...
On what age did you start playing drums at?
At the age of 13.
What do you do besides being an active musician?
I'm an up and coming Photographer. check out
gonzosandoval.com
Tell me about your other personal musical projects - which ones are in the making?
Black Raven ~ I'm writing, recording and co~producing this record with the Lead Flutest Daniel Hicks.
It is an adventure and a humbling experience of a lifetime. I'm Thankful and grateful for this opportunity.
Beginning an acoustic thing after Black Raven.
What country is the best place you had a show in?
Germany!!!!
Any advice for bands that are starting out?
Master your Craft, have Fun and stay Healthy!
Be an Ally of Lady Music!
What is your favorite Drum Kit?
My White Gretsch it is over 25 years old and still sounds as punchy as ever!
If you had to move to an Island what albums would you take with you?
Dark side of the moon ~ Pink Floyd
Enigmatic Ocean ~ Jean luc Ponte
Led Zeppelin 3
So many i would just bring my iPod, its got it all!!!!
What are the current bands you listen to nowadays?
I'm playing so much music now days i 'm not really listening to to many bands...I'm sure that will change
Where do you like to be the most - the studio / the stage ?
I Love the Studio... for the most then It's nice to bust out on stage...
Tell us about the process of the production of the new album - what is different in it compared to previous album?
The Band Learned the songs separately and the Record was layered ... We did not rehearse the songs as a band prior to recording ... this is the first time. I Feel it was a challenge and a learning experience for all the band and recording crew! Which will be interesting playing the songs Live... It will be a fresh Sound for us. I believe.
What artist you wish you had worked with?
wow... I wish i could work with Michael Jackson ... I love his grooves.
Is there any band we should look out for-something unique and great?
Black Raven ! Native Knight ~
2010
How do you see the music industry developing now to and where?
There are so many changes ...I can honestly say I do not know. My Prayers are for us all to connect and help each other heal the human condition. Everything else will fall into place.
what would be the best dream band made of (name the members)?
Rob Halford ~ Vocals
John Bonham ~ Drums
Paco Delucia ~ Bass
Phil Sandoval ~ Guitar
Maor Appelbaum