The Gathering
Interview with: Anneke van Giersbergen, from The Gathering.
2005-11-17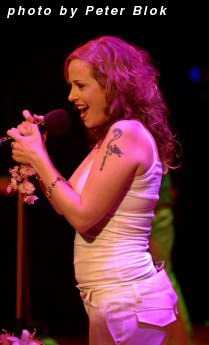 Hello Anneke,
First I want to congratulate you for becoming a mother and to wish you and your family all the best. how is it to be a busy musician and a mother? are you singing some of your songs to your child?
Thank you very much!
It's a great experience, being a mother.
It's hard work doing both but it's do-able. I just have to plan more now.
I sing to Finn but not seriously. just some kids-songs. He likes it very much.
Please tell us about the recording of the new album. How will it sound? what is the musical direction of the album?
We are almost studio-ready and will enter the 21st of November.
The album will have more of a rock feel. Much more guitar oriented. René has great ideas and we all want to rock and roll a bit more than we did in these past years.
And we are all very exited about it!
Where will you record the new album?
We will record the album in Holland in a small church.
We will build a studio there. It's a very special place and we look forward to record there because it's just great to build a brand new studio with a new sound and a new atmosphere.
Will you release the album on your own label – Psychonaut records?
Yes, we will release it on Psychonaut with a little help from a bigger label for promotion and such.
Will you also play guitar in the new songs?
Yes, but probably only live. René and Marjolein will play all the guitars in the studio.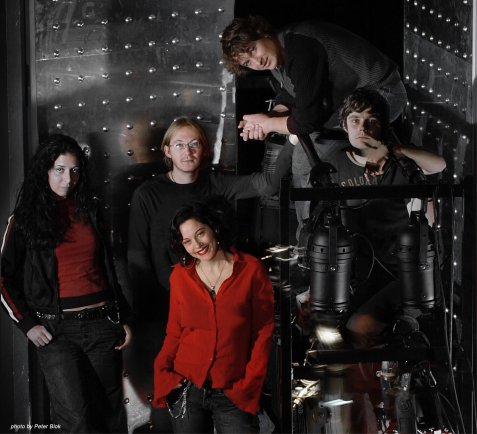 The Gathering - photo by Peter Blok
This album will be the first album with Marjolein Kooijman who has replaced Hugo Prinsen Geerligs on the bass. Does she brings new influences in the band?
Yes, she is a great and fresh influence. She is very talented and fun to be with so we are very lucky to have found her.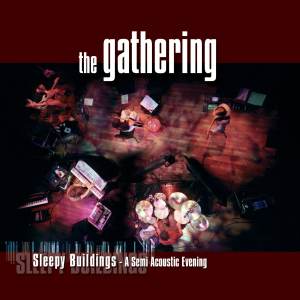 The live CD - "Sleepy Buildings" also features 3 songs which are part of the first 2 albums before you've joined the band. why did you choose those specific songs?
They are great songs and they have a beautiful melody to work with. That's why we chose these to make them semi-acoustic also.
I've seen in the credits of "Sleepy Buildings" that your name appears on the song "Like Fountains" which was originally release on the 2nd album - "almost a dance". have you added an additional part to the song? is that the reason that the song also appears on the "A sound relief" DVD?
No, I just added some extra lyrics.
Please tell us about the "The musical history tour". what is this CD? is it a release of the gathering or is it a sub project?
It is a project of a history teacher in Holland.
He writes history books for students and he created a method to teach about history trough reading seeing and hearing on a CD-ROM together with a book.
We wrote the songs for it so it's not a Gathering release.
It was fun to create though!
The band has begun as a metal band , today it is very difficult for me to connect you with a specific musical genre. Is there any genre that you can say that fits the music of the Gathering?
We don't really think about genres when we make music. Therefore we belong everywhere and nowhere. We are listened to in the metal world and in the pop and alternative world. But also progrock and general rock people like our tunes.
We love the fact that there are so many different people interested in our music.
The band doesn't play metal anymore, but yet you still play in metal festivals and have a lot of metal and gothic fans. do you think it is related to the heavy part you have in some of your songs? the first albums? can you explain this phenomena?
We still play the old songs live. But more importantly, whatever kind of music we make, we always have a dark and gloomy feeling in our music. This is a distinctive Gathering sound that a lot of metalfans still like even though it's not so heavy anymore.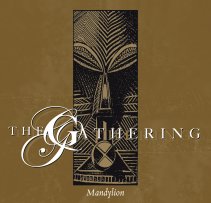 I've understood that Century Media are going to release a re-issue of Mandylion with bonus tracks. please tell us what will this release include? what do you think of this album today, looking back 10 years?
It's still a very special album for us. It's the first with me so for me it's a classic of course.
On this special re-issue there will be lots of unreleased bonus material, some personal stories of us and beautiful new artwork.
What is your current (assuming that this is something that can be changed with the time) favorite song of the Gathering and what is your favorite album of the Gathering?
My favourite album is 'How To Measure A Planet' and my favourite song is Travel. I like the atmosphere.
What kind of music and artists are you listening to these days?
We listen to a lot of contemporary rock and alternative pop like the Killers, Sigur ros, Dredg. But also to our old favourites like Pink Floyd of course.
The other band members have played in Israel almost 13 years ago on April 1993. Have you considered as a band to play again in Israel with the present lineup?
Do you have something to say to the fans in Israel?
Of course we would love to come and play.
The guys are still talking about how much they liked it.
We just have to find a good partner who can get us over there.
So hopefully we will manage one day!
Anneke – I would like to thank you for your time and wish you all the best.
You are very welcome!
Gal Gur-Arie
Previous interview(s)
:
Interview with Anneke van Giersbergen & Frank Boeijen of the Gathering at the EuroRock 2002 Festival (August 2002)