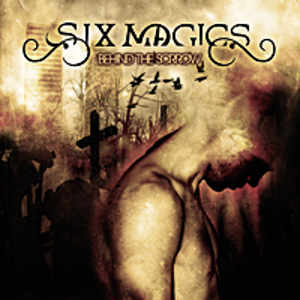 Six Magics
is an all around power metal act and reminds me a lot of Hammerfall, Rhapsody and Nightwish, though the last one has changed its musical tendency lately. There are two aspects that separate this band from those listed above: one is the fact that they are from Chile, a country that has never produced a lot of metal bands. If you run a quick check on-line, you will find maybe 30 metal bands from there. The second aspect is that they have a female lead singer (Elyzabeth Vasquez). It's not anything surprising or new as many bands take this path.
Six Magic plays the same type of music that was dominating the global metal scene towards the end of the last century. Bands like Stratovarious, Edguy and Iced Earth were the hot names along the black and the melodic death metal bands. Every month another power band just popped up somewhere in Germany, Italy or Finland. The formula was pretty simple: tons of double bass drums, high and clean vocals, melodic guitar riffs and anthem songs about knights and dragons. Six Magics has all of those power metal ingredients along with some power ballads and fast songs.
Now let's talk about Vasquez. Though I'm not a big fan of female singers in heavy metal, Vasquez is a professional singer and she fits well with the band. I never had the chance to listen to any of their previous album so I can't say about any changes that the band has been through. I guess you have to feel a change when you are working with a big name producer like David Prater, who produced "Dream Theater" and "Night Ranger" among others. This album can easily fit in between the German and Italian acts, and if nobody had said that they were from Chile, I would have counted them as band from Central Europe.
This is where I have to wonder how long Six Magic will stay at the spot they are standing right now. Globalization has changed the face of heavy metal, and today almost every band can get in touch with a well-known producer. The product is a fine piece of heavy metal, along with the name of the guy who produced it. Basically, you have a promising power metal package. But, how many bands like that are out there? I can tell you, there are tons of them. Hopefully, the fact that Six Magic has been around for a while, will help them in this nightmarish circle of the music business, they have a great album, but they are not so different from all of the old school European bands.