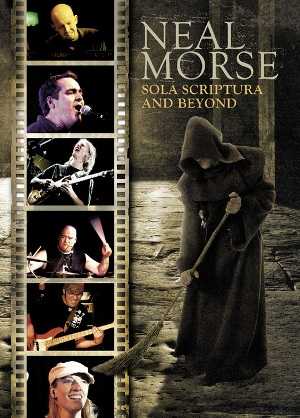 Neal Morse
Inspires me. As A musician, as a music lover and as a person. "
This sentence was the first one to come to mind while watching Neal's latest Live DVD – "Sola scriptura and beyond". It took me a while to put it down on paper, because I think it's a pretty heavy and meaningful sentence that should be written only after paying a lot of thought to it. And still, after understanding the full meaning of that sentence, I chose it to be the first one written for this review.
"Sola Scriptura & Beyond" is without any doubt one of the most ambitious and impressive DVD's In a real long time. Morse chooses tracks from all albums, including some Spock's Beard stuff, but as anything he does, he's taking to the extreme.
The DVD opens with "The creation", the 18:22 minute epic track opening the "One" album, after that ,comes the more retrospective part, which is the Beard's songs - "The good don't last too long" and "Open wide the flood gates". While some may see it as a simple nostalgic moment, it is actually your last chance to catch breath before diving into the almost entire "Sola Scriptura" album, which if I should remind everyone is a four track album (they play only 3 tracks here) in which two track last for about a half an hour, and the third one runs for about 15 minuets (it is the 5 minuets track they decided to overlook). Attempting to play this album in it's entirely takes a lot of courage. To pull it off the way Neal and the band did, takes a lot of talent.
The live "Sola Scriptura" version is followed by a "Question mark" medley that segues into a "Testimony" medley. If you're familiar with the musical material, you're probably gasping by now, because that's one impressive set-list, and watching it, is even better then you can imagine it right now. They close the set with Transatlantic's "We all need some light" and Spock's Beard's "Wind at my back".
The bonus material has lots of interesting backstage footage from the "Sola Scriptura" Tour and I believe that any Neal Morse fan will be more than satisfied with the very personal touch Neal has put into this material. Truly a beautiful effort. If you're really greedy, you also get nine live bonus tracks that makes most of the tracks on the "Question mark: live" album.
The band that accompanies Neal on the DVD amazes me with their accurate playing and interpretation of the recorded material. The music is tight, exciting and thrilling as it is on the albums. Every band member is focused and concentrated in his/hers playing while still keeping contact with the audience, and keeping it fresh and fun.
Guitar player Paul Bielatowicz shows some guitar wizardry, and peaks on tracks from the "Sola Scriptura" album. With his cool "Child in progress" T-Shirt and his young image he rocks the guitar parts, and shows lots of John Patruci's influences in his performance, but with better guitar feel for my taste.
Drummer Colin Leijenaar takes on the parts Portnoy play on the albums and stays truthful to most of them, keeping in paste in the most impressive way there is, he sits behind the kit looking quite calm while delivering bombastic drum parts and time signature shifts like crazy.
All band members contribute vocals (except from drummer Colin and Henk Doset who completes Neal on keyboards perfectly), but Jessica Koomen, who plays extra keyboards and percussion as well, is beautiful, talented and cheerful, for me she lights up the stage with her vocal harmony's and always smiling and positive radiating attitude.
This DVD is an extravaganza of skills, talent, honesty, and as you might see in the documentary – Friendship. The band seems to have fun on the stage and crowd is definitely absorbing that, while radiate their love back to the stage. If you're looking for someone to put faith back in live DVD's, give this one a chance, you'll most likely find a home.