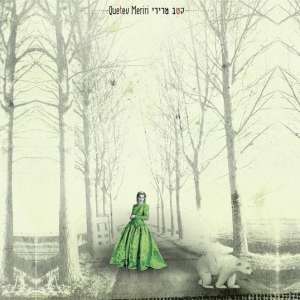 Quetev Meriri - Quetev Meriri - [GushPunkA]
Quetev Meriri
's music would be like trying to touch the clouds; Deep, heavy grayness, which floats and bloats in sluggish slowness yet with alarming determination. There's no use trying, you just have to sit back and enjoy the sight of the storm approaching from the horizon. The divinity of this local ensemble's debut album is greatly enriched by its conceptual depth – Jewish philosophers after whom the tracks are named – to a level where it detaches from its media's siliconious earthliness and settles cumbersomely in your awareness. One night, one lengthy jam-session, three multi-talented musicians and one groundbreaking album.
Soothing Arabian melodies, rustles and scratching-noises that can come from your paranoid mind or just as well from your speakers, hermit-like vocal chants which may resemble praying or something by
OM
, dissonance as disturbing as a nightmare on a hot summer night – an entire spectrum of emotion in just under 45 minutes. Quetev Meriri create atmosphere on their debut (a second album is on the way, with an addition of a female drummer to the pack) in the full meaning of the word. It's actually the thin, subtle layers piling in such an intriguing manner…every layer, every instrument and sound - a wide variety weaved magnificently into a single coil, hypnotizing as it spirals away…the listening experience, once you consume the album as it is – naked – is the point where Rachmani, Yaron and Lowenstein succeeded absolutely. That's the secret of this biblical demon, it sneaks up with such tiny silent steps that by the time you notice, it's too late.
A short and laden review for a shot and laden album, without unnecessary chit-chat about the aforementioned Jewish philosophers (=most track names, which where only fitted after the tracks were done) on the instrumental tracks or the two poets ("Seeds" – Vasko Popa, a Serbian poet; "Dispersed City" – Yair Horwitz) who got interpretations you could actually call "interpretations", with the ensemble's personal exegesis rather than just mixing beats and sampling old speeches. This is recommended to whoever really like music and can afford to distance themselves from work, TV, phones and the environment in general for a short while of mesmerizing low-fi. Anticipations for the next album (recorded completely according to interviews) grow day-by-day and each time I hit the play button. If they won't lose momentum then the empty space on the CD rack won't stay empty for long.