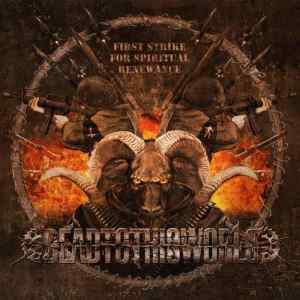 Dead To This World - First Strike For Spiritual Renewance - [Dark Essence Records]
Immortal
man Iscariah continues his quest for extreme metal dominance. After being involved with quite a few projects in the last few years, it seems he has found his center with
this
, a blackened thrash project in which he sings, plays guitar, bass and does programming. Alongside members from such Norwigian bands as Jutonspor and Sigfader who provide adequate cover, it's still clear he is the engine that drives this aggressive machine.
Though at the band's basis there are most certainly roots of the eternal
Hellhammer
and early
Celtic Frost
, Iscariah's well-honed riff writing skills lend this an air of quality. This is evident in almost any project he was associated with, the guy can write – no doubt about it.
The album starts off with a hit to the head, and only gets better with each following track; songs such as "Shadows Of The Cross" deliver with a killer riff and relentless vocal aggression that has more to do with oldschool black metal than 99% of black metal bands active these days have. In the next one, "Goatpower", Iscariah uses some smart audio effects to sit in with the brutal and stripped-down music to create a truly unique and convincing song.
There are some additional bonuses, such as "Unholy Inquisition" which adds to the oldschool thrash elements some solid death metal riffs straight out of the early 90's. The clear yet raw sound only serves to accentuates the pure energy here, rather than overshadow it.
A contender for the best extreme metal release of the year, I just hope Iscariah keeps it going.