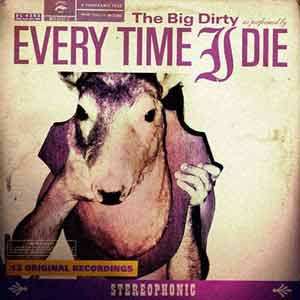 Other then the questionable syntax in the title of follower "Pigs Is Pigs", vocalist Keith Buckley is at his best lyrical skills yet (
And if you still believe/ That man guilty of love cant survive/ Then Hang 'em high or not at all.
), not to mention his capturing guttural screams throughout. Jordan Buckley & Andy Williams display gut-turning riffage ("Depressionista", "Rebel Without Applause", "A Gentleman's Sport") and chord-progressions ("Leatherneck", "No Son Of Mine"), not leaving a boring second. The two combine southern rock (as in highlights "Rendez-Voodoo" and "Buffalo Girls") into their form of metallic hardcore (mathcore, by some); creating a well-armed album that's so loaded you'd consider 2 aspirins and a call to your doctor in the morning.
Since 1998, Every Time I Die have been working their asses off to get to their distinguished position as a leading act in the modern metal scene; they've shared stages with some of Metal's greatest, have obviously made some cash, but mostly earned fans who stayed loyal not just 'cause of the band's momentum or 'cause its usually associated with metalcore but since this is a quality band, who's been unjustly marked with a big, dirty, "X"…and what better way to write it off can you find other than attacking full force with an equally grand album?
On "The Big Dirty" this well-matured band has shed most of its' major metalcore characteristics and instead has taken its well-known southern influences ("We'rewolf", "INRIhab"), one-liner lyric repetitions (
"You don't live until you're ready to die", "All that we hunt for, we are"
) and overall witty songwriting to a whole new level. On the surface, it's a mixture of both previous albums (2003's "Hot Damn!" and 2005's "Gutter Phenomenon"), covering the ground right between 'em, but upon repeated consumption it is evident that Every Time I Die decided to go against what's expected, regardless of what kind of responses they'd get, and refine the type of ire metal they do so well rather than claim to "progress". They're not pretending they're someone else, with pseudo-evolution for even a mili-second, and ain't gonna change their ways. It may be kitsch, but the result speaks volumes.
"My job here is done/ It is better to destroy than to create what is meaningless/ So the picture would not be finished"
you're just left breathless, dry-mouthed, with your ears still ringing and knowledge of what real epiphanic climax feels like.
Every Time I Die are exactly the kind of band who wouldn't take beating from anyone, and with this tornado of an album it is as if they're saying "We're here, we're BIG, we're DIRTY, and if you don't like it we'll just go party some other place. Just clean up around here, it's a mess".