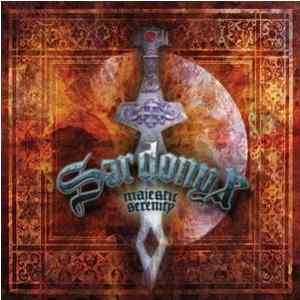 Retroactive Records
hit it again with a re-release by a classic, and relatively un-known American metal band,
Sardonyx
. This time a re-release of the band's self-produced debut, 1994's
Majestic Serenity
, itself a combination of material recorded by the band in different times, with the re-release also including a demo from 1990.
Musically speaking, the band creates a combination of classic American power metal with some technical thrash elements, all quite well played, with strong, high-end vocals. Through its self-produced, it sounds quite good, with the later material, circa-1991, sounding better than the older stuff.
This is easily a lost gem for classic metal fans out there, interesting and dynamic, with some solid song-writing, though a bit overly epic in some tracks, that could've used a bit of trimming in order to sound tighter. Still, it's very enjoyable.
One thing though, the band is a strongly religious Christian outfit, and its lyrics are solely based on material from the scriptures. Those who have a problem with such subject matter will want to stir clear here. But people who have no problem with this, like me, will just look beyond the lyrical subjects and just enjoy the good metal the band produces.
Such numbers as the epic opener, or the atmospheric third track – Corridor To Light are strong examples of the music the band created here, heavy, quite technical, with plenty of feel. I have to say the lyrics to the opener, dealing with the dangers of sexual temptation were a bit too much for me, but most of the tracks, though sharing a somewhat similar theme, went down easier.
Not a definite classic of American thrash/power, but still a worthy release with some very solid metal music, I can easily recommend it to those who have an affinity for classic metal, both melodic and quite aggressive, just as long as you're not a raging Satanist or something, this may be too much for you...