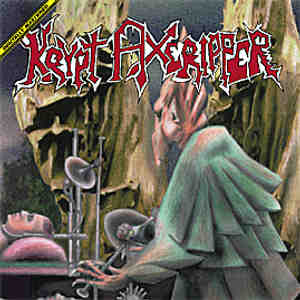 Seemingly an obscure early 80's album, but actually a new release by self described New Wave Of Finish Heavy Metal artists, actually members of drone outfit Circle, also from Pharaoh Overlord. It's still something which would probably sit in better with strange Indie consumers rather than fans of classic heavy metal.
4 short songs, with a sound that resembles something that was recorded in a basement somewhere; this has some distorted metal riffs that bring to mind early NWOBHM, with lighter, almost indie vocals and vocal harmonies. It's all very psychedelic sounding, not because of the sound, but because of the attitude, and it's definitely very difficult to categorize.
Still, though this is not even close to being digestible or even comprehensible, I found it enjoyable in a strange way, the melodies are good, it's interesting to listen to, and though it doesn't sound exactly metal, nor indie, it works. They manage to convey an offbeat vibe that makes this almost hypnotizing.
Definitely not for the old-school metal fans that the cover and image would suggest it will attract, this is still very interesting stuff for more adventurous souls out there.