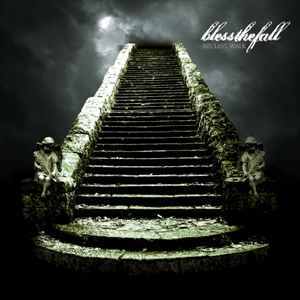 Hailing from Pheonix, Arizona, Blessthefall are a group of youngsters that have been around since 2004 filling local venues with (even younger) boys & girls. A wide fanbase may be a paved enough road to launch a debut through, but problems start to occur when you're attempting to launch a wobbly wagon and expect it to fly across the mediocracy marker. Opener "A Message To The Unknown" is the kind of appetizer that would make you try to get the bad taste out of your mouth the whole evening; a blasting opening followed by a flat out fall to clean vocals, attempted punches and some guitar doing various math-core like leads in the back, and a mellow reverb effect break – it's all been done some many times, by some many others, and so much better. This situation follows on "Guys Like You Make Us Look Bad" to a wider extent when at 1:45 a cut-out-cardboard melodic part is pasted in, just for the sake of coercing diversity.
It is no secret that screamo, emocore and metalcore have all become metal's racial slurs, so Blessthefall don't really have a chance among non-fans of core. Among ones who are familiar and fond of the likes of Alexisonfire, Escape The Fate or The Receiving End Of Sirens, "His Last Walk" would probably fit ok on tracks like the upbeat "Could Tell A Love", following highlight "Rise Up", emotional semi-ballad "Pray" (reminiscent of Coheed And Cambria's work to some extent) and the title track where the screams and drama dominate.
To conclude – I'd recommend checking up on Blessthefall about a year or album away from now, to allow their creative fruit to mature so the harvest will be more pleasing. Maybe after their very well booked tour calendar, confronted with the more demanding Europian crowds a greater effort will be put into a second album. If not, there are enough identical acts to go around.