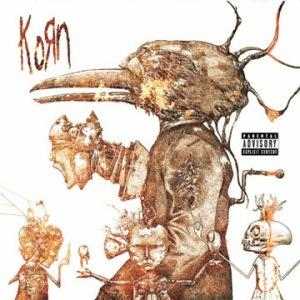 widely mocked
unplugged album ("MTV Unplugged", 2007) recently.
Trouble also followed during the whole process of making 'untitled', when Korn decided to split with production team The Matrix and re-do all most of the songs with Atticus Ross instead. Bozzio didn't stay to the finish either, only appearing on about half of the tracks (6 tracks) and the drummer's void was filled by Brooks Wackerman from
Bad Religion
and even frontman Jonathan Davis himself. So the expectations subsided even before listening to what Korn's 'untitled album' has to say.
Korn's main attractions, like down-tuned guitars and Fieldy's signature slap-bass guitars, are hard to find within the untitled effort. Their appealing quirkiness, however, is evident from
Richard A. Kirk's
artwork and manifests itself right from the start as the twisted carnival-like "Intro" sets the ground for opener "Starting Over". It's not a bad opener overall, has quite a catchy chorus, but just feels like a powerless
Killing Joke
or
Nine Inch Nails
song.
The comparison to NIN sure doesn't stop there – Korn seem to have been going through Trent Reznor's trashcans with follower "Bitch We Got A Problem", touchy number "Kiss", quasi-'The Fragile' outtake "Ever Be", the ominous "Killing" and just about every dirty/noisy part on the album. This is more than an influence…Heck, Davis even sound like he's trying to have Reznor's diction at times.
Now, with only three actual members in the band (and drummer David Silveria on some hiatus until the next album), it's easy to understand why Korn's untitled album sound the way it does, so incomplete and incoherent. It's shards of a band making shards of an album. Nevertheless, some track that do manage to work; "Evolution" is pretty solid, "Hold On" is a radio-unfriendly-single with the right amount of groove and an incredibly catchy chorus served the way there guys used to do it, "Luxury Or Love" goes back to the contagious electronics of "See You On The Other Side" and followers "Innocent Bystander" and "Killing" do well in distilling industrial metal to a level of easier consumption by the masses.
Looking back at Korn's history, it is quite evident what they attempted to create yet again…as quirky as an untitled effort may seem, it is still a product for the masses. This time around the influences are so evident it appears this multi-platinum commercial band just went with the market's demand for intentionally electronically infested albums with clear 80's/early 90's influences such as
The Cure
and NIN in this case. The result - as expected from imitations, is cheap plastic.