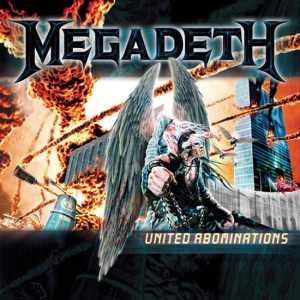 Already banned by the U.N. as part of some official document, the album certainly strikes with full artillery on contemporary politics and the persona moving its gears.
Other than the title track with its news report-like experts and stinging lyrics tongue-lashing the U.N. for every known omission see on TV and out of it, you can find very clear imageries in "Washington Is Next!", predicting the US to be the next empire to fall, and when Mustaine bluntly states "We are just a war away from Amerikhastan/ When god versus god, the undoing of man" in the head to head solo-war between him and Glen Drover on "Amerikhastan" – all these just add more and more layers of fury, more overseen layers of the truth as this redhead, and many others (including Michael Moore, who's probably blasting a big ass boom-box with "United Abomination" right in front of the U.N. main headquarters as we speak), see it and wish to point out and warn us from future outcomes. Call it a conspiracy theory a la Megadeth, but don't be surprised if the apocalyptic gospel by Dave hits you next time a news blitz comes up.
The clear sound (three cheers for Andy Sneap for that, Hoo-rah!) makes Mustaine's even more complex licks go through smoothly, not overloading the ear-drum or losing notes for even a second. It fits Megadeth with a very modern-metal drums and vibrant bass heavy guns, which fit much better than the whole hollow 80's arena rock sound. And as for uncle Dave's vocals – even if you dislike his crooked tones, you're bound to enjoy every drop of venom he spits from furious opener "Sleepwalker" to narcotic-dealing closer "Burnt Ice".
You see, Megadeth have gone through almost all phases of being a long-existing band. They've worked their way up from the later half of the 80's with what is now considered a trio of classic thrash and speed metal albums ("Killing Is My Business…And Business Is Good!", "Peace Sells…But Who's Buying?", and "So Far, So Good…So What!"), became acclaimed in the 90's with their classic lineup in remarkable albums like "Rust In Peace", "Countdown To Extinction" and "Youthanasia", had their downfall in the mid/late 90's and followed with a hiatus until finally made a successful comeback in 2004 ("The System Has Failed") – the only phases they haven't, thankfully, been through yet are losing members due to early-age or old-age death and disbanding completely, but this is no time for eulogies. Megadeth have successfully outlived their comeback, and produced eleven thrashing sharp-axe capturing numbers (even if one of them is a re-make) for every old and new fan's enjoyment.
It's hard to say more about "United Abominations" other what's already been said. Megadeth have worked their asses off, managed to come to the point where they can reap what they have sown, and can now just enjoy the crowds roaring for 'em this summer and hopefully more summers to come. Hoo-rah!