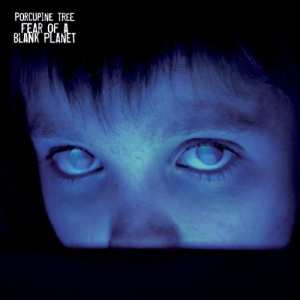 Pain of Salvation's Daniel Gildenlow looked into the near future and saw a world that's industrialized & capitalized. Trent Reznor, NIN's mastermind, looked 15 year ahead and saw a world living under the watching eye of the big brother, where no basic human feeling or value are allowed to exist, and the enslavement of the masses is to the will of few…and that's only a partial list of the gloom reality artists have in store for us.
Steven Wilson, on the new Porcupine Tree album, takes the shattered reality everybody talks about, and stirs it at a different aspect. "Fear of a blank planet" (FOABP for short) expresses his concern for the lack of content and curiosity in today's younger generation; a generation growing on television, the Internet and too many pointless stimulations. All this leads this generation to be a generation of empty, if not soulless, vessels.
In the different interviews about the album, Steven mentions more then once the people's loss of interest in full-length music albums. People would rather have the hit single, or just prefer more song-oriented rather then album-oriented tracks. This leads into loss of interest in the whole "whole album" concept. "Fear of a blank planet" goes back to Porcupine tree's roots in that manner. Of course they never left the musically concept albums, but here they perfect the orientation. The tracks on FOABP aren't seagoing one into one another, but it is in fact a 50-minuet concept piece, and that's the way it was meant to be listened to.
In a quick overview on full length albums, the banal routine is easily spotted. Usually you'll have the first part of the album with the better tracks; the second half will be not as good, though it will have a track of two making it worthy to get to the end of it. One of the greatest successes FOABP is the well kept balance all the way through the album. There is not a single weak track on the album, and the order they are placed in creates a perfect musical balance.
"Balance" is an important key-word on the album. Through all six tracks were built to be one masterpiece, there's a perfect balance; Slow against fast, heavy in opposed to softer sounds, aggressive versus emotional. Some would say: a balance between earlier Porcupine Tree sound and their later, more metallic, period (from "In Absentia" on). The album holds some of Porcupine Tree's most heavy and metallic parts (such as in "Way Out Of Here") and some of their most beautiful sentiments (such as in "Sentimental"), or the composition of both In "Anesthetize", which goes form Meshuggah to more ambient in matter of minuets.
The presence of two prog rock legends - Rush's Alex Lifeson contributing a guitar solo on "Anesthetize" and Crimson's Robert Fripp with his musical soundscapes on "Way out of here" mark out a status Porcupine Tree have been entitled to for a long time. In difference from other rock bands that could be defined close to their musical genre, such as the aforementioned Pain Of Salvation, Dream Theater, Spock's Beard etc', they are embraced into the respected prog rock legacy by the bands who originally formed it, and that means a lot.
A further discussion about Porcupine Tree's position as a natural and worthy link from the 70's prog rock into the 90's and the new millennium can be summed through a quick pick into their discography; the earlier albums were not mentioned just once as the segue for "early floyd", psychedelic rock and space rock, but many times. As for the more current album, it only takes a glimpse at the track arrangements on FOABP; A classical prog album setlist; 6 tracks, one is a style-changing 17 minuets epic while the entire album lasts around 50 minuets (that's about the maximal approximate time that someone can stay focused on a musical piece, by the way). You can easily imagine "Anesthetize" taking up a whole B-side on a vinyl.
Things you shouldn't miss on the album: "Sentimental" - a great emotional piece. Its vocal production opposing the dynamics of the chorus creates a beautiful blend between warmth and detachment. Every second of the well-written "Sleep together" with its spine chilling violin parts. If that slide technique rings a bell, it's probably your memory of Led Zeppelin and Radiohead, both having great tracks with this sound's trade marking. Its song structure, on the other hand, sounds like a King Crimson classic. And I'm guessing there's no need for further "Anesthetize" recommendations by now.
If Wilson was concerned about the way people consume their music these days, he could be relaxed knowing that he had found a solution to it, by creating a full length masterpiece, which you'll have to listen to all way through to if you want to grasp its full impact.
FOABP is another step on the lane "In Absentia" started, combining heavier and more intense metal influence into the band's music. The older fans will have to understand that this is the current phase porcupine tree are in, and stop expecting their albums to sound like "Lightbulb Sun", "The Sky Moves Sideways" or "Stupid dream". The most you'll probably get is a hint of the "Signify" era.
This is probably the most ambitious and established work from Steven Wilson as Porcupine Tree so far. There are also three tracks the band worked on that didn't make it on the album and will be released later this year to complete the FOABP experience. I'm only intrigued if they'll be an addition like "So Called Friend " and "Half Light" were to "Deadwing", or will be an enhancement to the concept of the album. I can understand Steven's concern for the younger generation, but as far the album goes, I can promise you there is nothing blank about this planet.