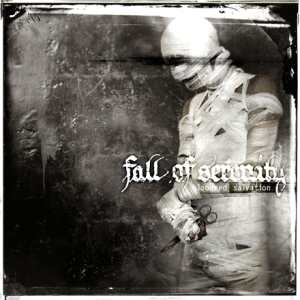 Fall of Serenity's so called death metal originates from both American thrash metal and European melodic death metal - so it includes death metal screaming, semi-impressive drumwork, and riffing that range from heard-it-before thrash chugs to heard-it-before melodic lines, and it's occasionally spiced up with keyboards or various other electronic effects that only seem to work like cute accessories on an ugly girl.
There's nothing too mentionable out of the 10 tracks, which are almost indistinguishable from ones by similar metalcore acts, excluding the two less related instrumental tracks "Blood Starts Running" (the intro) and the title track; the opener swelling from just synths to a good old heavy/thrash metal segment, and the interlude being a well composed piano break with backing effects and an over all dramatic tone – whoever wrote those two should have been in charge of writing the rest of the album (that way something decent would have come out of this album's budget).
The main feeling you get after listening to "Bloodred Salvation" swings between being idle and just moving on without remembering (nor making any effort to remember) what you just heard, to wondering why you waste your time on bland releases instead of listening to one of the above-mentioned bands instead.
If second-hand metalcore is your thing and you're not tired of bands doing imitations or you just liked the cover artwork (like it did) - buy the album. Otherwise, designate your time and money to different vocations.