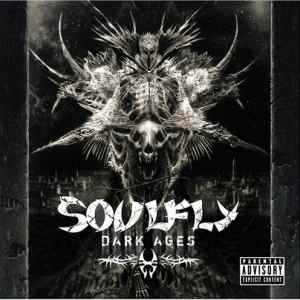 Sepultura
's "Roots").
Opening song "Babylon" can be placed on the middle ground between Sepultura's "Chaos A.D." and "Roots" albums, while the rest of "Dark Ages" acts as the missing piece between the "Arise" and "Chaos A.D." era Sepultura. It is not however, a Sepultura album, mainly because it is missing the trademark sound of Igor Cavalera's drumming and Andreas Kisser's guitar playing.
What we do get in "Dark Ages" is a kick in the face with a force we almost forgot Max is able to deliver.
The guitars throughout the album are ripping thrash/speed mixed with hardcore simple aggression. Only a small part on the 10th track, "Riot Starter" (with Dave Ellefson of the
Megadeth
fame) and the traditional Soulfly track, "Soulfly V", still hold resemblance to previous efforts.
We do however, get to hear elements in "Dark Ages" we never heard before from the Soulfly/(Max era) Sepultura camp.
For example, "Molotov" (with Billy Milano and Paul Fillipenko), an aggressive hardcore song in
Russian
, with the parts of Billy Milano (
S.O.D
) recorded by Max over the phone. There are also psychedelic parts which remind of
Black Sabbath
's "Planet Caravan" or maybe
Crowbar
's clean melodies. There is also one passage sung in clean voice a-la-
Testament
or maybe even
Soilwork
. One track even plays tribute to Max's former industrial project,
Nailbomb
.
The aggression and dark themes in "Dark Ages" are explained by Max as the result of dealing with his grandson Moses' death, and the death of close friend Dimebag Darrel during the writing process for this album.
On one of the songs, "Stay Strong", Max's son Ritchie sings his own lyrics to Moses and to Dana, Max's stepson who was murdered a few years back.
Overall, "Dark Ages" is a fast, aggressive, rough album that mixes the technicality of speed metal with the anger of hardcore, and a touch of psychedelic elements.
At times it seems Max is not in his forties, a father, and a successful musician, but is still that angry kid roaming the streets of Sao Paulo.
One of the best metal albums to come out this year.