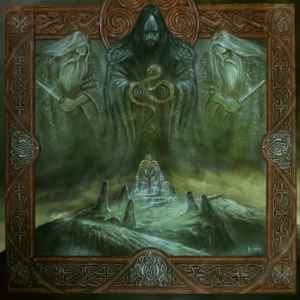 Beside the fact that they are one of the finest unique bands in Black Metal, they are also one of the veterans with releasing their debut album back in 1993.
It's been a while that their latest release, the 2001 TARA, is being the resident cd in my cd-player, and certainly not for vein. TARA is an amazing album that shows how ABSU are indeed one of the best bands in that genre. Their musical line here continues their last two releases, The Third Storm of Cythraul and their In The Eyes Of Ioldanach EP, with powerful black\thrash metal, unlike NECRODEATH the thrashy side isn't the dominated side, in fact in this case I can't find a dominated side, since both elements are so mixed and by adding one of the original lyrics in BM it invokes the entity named ABSU.
The main person behind ABSU is also known as the drummer in the former Israeli Black Metal act MELECHESH, a.k.a PROSCRIPTOR. The role that he's playing in ABSU is fantastic: the drummer and the lead vocals, both tasks are delivered in their best, if it's the excellent fast and smashing drumming (he even got to be on Slayer's final auditions but wasn't chosen, according to rumors it was because his interest in the Paganism and occult) that leading the music, or if it's the beautiful work of his vocals ranging from BM on the higher octaves to Tom Araya's screams and even a bit like King Diamond.
The songs on the album are fast but unlike other fast albums, they do taking care to add some rhythm changes, and there is also an acoustic track in the middle to separate between the two part of the album.
The booklet is a different subject, unlike any other bands in the BM genre that sings about names taken from their nightmares or alternatively from the Necronomicon, here the inspiration in mainly both Mesopotamian and Celtic mythology and from the THELEMIC philosophy of Aleister Crowley, and for the sanity of the readers they also considered our lack of knowledge and add their dictionary for the words and names in the lyrics. The artwork here is beautiful, giving a slight feeling of Celtic atmosphere, and to end all their efforts on this Celtic\Scottish feelings the album starts and ends with the theme tracks as bagpipe music.
With no doubt this is one of the great albums from this new millennium, sad enough the band is currently working on their last album, and then the BM genre loose another veteran and fine band.
This is a must album and not only for the Black Metal fans.