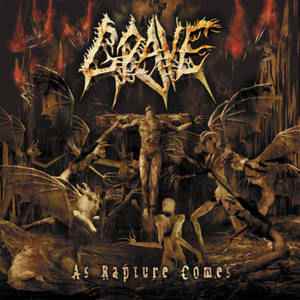 On this, their seventh full length, they prove that persistence is what made them survive through the years; they stayed true to their mantra of straightforward brutality and earned being a landmark in extreme metal.
Problem is it's simply irrelevant to anyone who doesn't eat, sleep and shit death metal, even considering the good period metal is having these days.
Genre fanatics or just plain death metal loving folk will enjoy "As Rapture Comes", for it gives a known recipe of pounding oldschool death metal, going into
Slayer
-like solo's occasionally ("Burn" and "Battle of Eden" are good examples) as well as containing some thrash riffing, blast-beats and seldom even doom/death parts.
One other thing that's mentionable is the heavy cover of
Alice In Chains
' classic "Them Bones" – a rather surprising choice, and surprisingly good cover.
"As Rapture Comes" would have been as oldschool as it gets if it weren't for Peter Tägtgren who produced the album and gave it such a clear and modern sound, but that's beside the point – Grave are not innovating nor trying to innovate, they just do what they know and do best.
Sweden's Grave have been at it since 1988, and ever since have been persistent on the same type of oldschool Swedish death metal, as brutal and as extreme as it may me, in the same scale of their fellow pioneers
Dismember
,
Unleashed
and
Entombed
but without the fame. Grave now joins its pioneering peers as a quality band worth remembering, and only listening to its peers' releases this year will put it into the right perspective. Those of you who enjoy this kind of display of raw power should and will listen to it; those of you who don't should put their money into better investments such as a phone in the bathroom, or some real shelves.