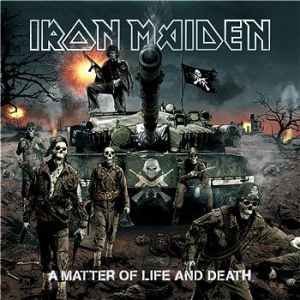 I could go on and on with colorful descriptions about Maiden's histoy, the golden age 80's, the downhill 90's, and the 00's comeback, but the bottom line here is that with "A Matter Of Life And Death" they withstood the challenge.
Instead of writing an article about Maiden's history, let's just take one step back in time… 2003 saw the release of "Dance Of Death", which got some mixed reactions; some liked it a lot, found it close to 1983's "Piece Of Mind", and others couldn't quite understand where this band is going and why – personally, I'm somewhere in the middle, DOD in my opinion has two or three really good songs – this is where the questionable direction of the new album originated.
All the concerns were removed as soon as the "A Matter Of Life And Death" was released, it seems like Maiden has re-found it's niche, and not only found it, but manages to sound ever-so-relevant.
The group's persistence in playing the entire album live on the current tour only comes to show just how much they believe in it, as well as coming to show that maybe not only the critiques and (intelligent) fans are tired of grinding the same old songs – Maiden decided to innovate, and kick whoever's bothering it on the way there (even if it's devoted fans who demand to more classics live).
For their 14th full length they chose an overall theme of War and various calamities in the modern world (relevant, anyone?), and release their longest album to date with the kind help of Kevin Shirley. We all know they worked with Shirley before, and this time he really managed to get them to sound like they ought to sound – live; everything is in place, guitars are neatly stapled to each other (unlike in DOD where they smothered the ears while lacking descent hooks), Harris's bass sounds just as good as (if not better than...) in "Aces High" or "The Number Of The Beast", Nikco's drums are sharp and clear, and Dickinson…oh, Captain Bruce Dickinson, the human siren, is like fine whiskey aged in a traditional oak cask.
Right from the opener, "Different Worlds", it is evident that Maiden is more aggressive and more focused; Dave, Adrian and Janick prove this with their perfectly synched guitars. "These Colours Don't Run", the follower, may start calm but soon gathers weight and speed- thus impacting with great force, and even leans to a more progressive turf (not the kind of progressive that got you raising your eyebrows just now, but something suitable to the heavy metal Iron Maiden did, does and will hopefully continue doing). The forceful "Brighter Than A Thousand Suns" proves that a good metal song doesn't have to be super-fast or super-heavy, and its two followers – "The Pilgrim" and The Longest Day – bring to mind the older materials ("Somewhere In Time" & "Seventh Son of a Seventh Son" era).
The orderly ballad is "Out of the Shadows", and with it Maiden succeeds in what some refer to as kitsch (mellow verses, strong chorus, use of both clean and touching distorted guitars, repeating chorus after solo and bridge – exactly by the book).
The highlight, from my point of view, is "The Reincarnation Of Benjamin Breeg"; an epic track that matches up to the standard of those who made the band what it is for those of us who not only know the hits. Maiden's uniqueness with this sort of epics is that one hardly feels they pass, the energy and the intelligent way they're built make songs like "The Reincarnation Of Benjamin Breeg" and "For The Greater Good Of God" a continual pleasure, just as much as "Rime Of The Ancient Mariner" or "The Clairvoyant" are.
"Lord Of Light", the 9th track, is a depth bomb; sinking slow and quietly, but set to explode and cause great impact – an it certainly delivers.
"The Legacy" is a masterpiece on it's own so it sure closes the album well, it is unlike any other Maiden song I've encountered, really seems like a progy Maiden – even if I raised my eyebrow on this one, I understood pretty quick that it's just a part of the updated version of the band.
Iron Maiden is a band which succeeded a very difficult task – releasing an album which sounds awesome as a whole but each track works just as well by itself, and the two singles which have already been released are proof enough; the interesting thing is that the songs aren't short nor catchy (in the pop context of the word) but run an average playing time of about six minutes and are intriguing, sophisticated and nowhere near exhausting.
It's ok to say that this album is most similar to "Seventh Son…" (minus presence and emphasis on keyboards), it's also ok to say this is the next step in Maiden evolution.
Of course it also now ok to say that "A Matter of Life and Death" is yet another acknowledgement that 2006 was and still is a good year for Metal.
Now you can not only take out that aforementioned over-washed T-shirt but wear proudly.