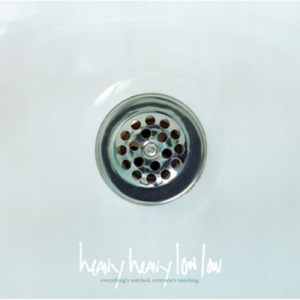 The Dillinger Escape Plan
, you might enjoy Heavy Heavy Low Low. Then again, even if you do like Dillinger, you might want to choke the life out of Heavy Heavy after listening to their album, a combination of technical proficiency, madness, some interesting riffs, and vocals that can drive me to murder.
You might describe them as screamo, mad free-form jazz, but the fact remains these clowns just seem to fuck around with their instruments, creating some truly horrendous musical messes such as the opener "This Is Really Testing The Patience I've Never Had", or going into Mr. Bungle territory with "Forgot 2 And A Half Days" and "Buddy, You're Makin' No Sense". In between the annoying crap you can find some great riffs, such as some of the ones in "Texas Chainsaw Mascer-uh", but it's all topped with these wacko screaming/whining vocals that annoyed the shit out of me most of the time.
I'll say one thing about the album, it ends faster than you can say the band's name, they probably understand that too much of dementia isn't a good thing. Still, after the last track "Party Girls" seemingly ends, we're treated to some more; an acoustic number that sounds like somebody finally banned the band from using electricity. Praise the lord.
Whether you enjoy this depends a lot on your sense of humor, this is quite impressive in parts in a technical sense, but it made me feel like choking the band most of the time, and that can't be a good thing. Approach with extreme caution.