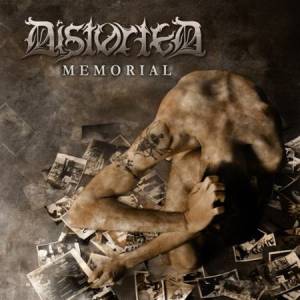 Distorted
's Music for quite a few years, in which I've seen the band perform live at different live shows. The band has stated their musical direction as an alternative rock band, during the years they have changed their musical direction toward the direction of doom – death metal.
I already knew that
Distorted
have a few good songs and sound good, yet - their debut album – Memorial was a huge surprise for me – the album is amazing in all aspects: from the artistic part of the music through the professional production.
A few months ago I've first heard the song - "Redemption" and got the first impression of the album. This was far away from the music I knew that Distorted plays, This song sounded more like the Swedish death metal style of bands such as
Dark Tranquillity
&
Amon Amarth
, I think that the band made a good choice to publish this song on their web site so listeners will get a good first impression. The song like the other songs in the album is well written, performed & produced.
Miri Milman, the band's female vocalist is doing excellently both on here solo vocal rolls and those with the growling male vocals, which are done by the guitar player – Raffy Mor, they just sound professional. Do not be mistaken – this is not an Israeli version of
Lacuna Coil
,
Epica
or
Within Temptation
– this band has it's own style and their music is heavier than the Gothic metal style of those bands.
The opener for the album is the song - "In your light" which opens with choir vocals, and continues with more than 7 minutes of good music followed by the theme song – Memorial, which also includes clean guitar parts and guitar solos done in a very professional sounding fashion it continues in the following songs. Some tracks also include professional percussion parts which are an added value to the music.
I really liked the bass work, as well, played buy Guy Shalom, its evident in the songs "Children of the fall" & the song "Flesh in blood", I think I can recognize some influences by
Metallica
(at their Ride the lightning time), doom and classic heavy metal.
I think that the listeners who are familiar with the band's music will be amazed by the great quality of this album and those who aren't will discover a great band with an excellent debut album.
During the recent days i found myself carrying the album. at the morning I'm listening to the album at the car on my way to work, at work – my personal computer is playing the album and event at the evening I'm listening to it.
My recommendation is: buy it, it's worth it!