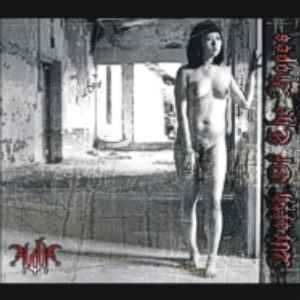 Both E.M. Hearst (guitars, bass, drums, programming) and Scarecrow Jack Rottinghouse (Vocals, Synths, programming) are masters of programming/production and with a little help from V. Rottinghouse (former member) and the model
Sicka
– it's definitely hard to miss Ada (which is Bulgarian for "Hell", btw).
"Chamber of the wraith" opens the album, instructing listeners to abandon hope; a stormy base with all sorts of bell and demonic chants which give a feeling of "presence" in the room.
A disturbing piano opens "Final reflections" and follows throughout the entire song while Scarecrow's vocals haunts the statically dirty guitars and steady drums- the highlight is at about halfway through, where it seems like the ghosts are back to haunt you just when you though you lost them.
"Lake of decay" makes me feel like I'm in the twilight zone with its spidery keyboards while the distortion just adds to the sickness, a hollow drum effect enters later to complete the atmosphere - someone is messing with my mind.
Somewhat of a crispier sound can be found in "Alone", along with sinister machine voices.
The overall closeness to funeral doom is felt in "Death bed", where the vocals go hand in hand with the instruments.
"Snow dragon" closes the album in a very different tone- melancholic, calm, soothing, only disrupted by the drums and an occasional cymbal blast.
The story behind this debut album is that of a young girl, whose ghost is claimed to haunt the house she lived and died in to this very day, the same house that Scarecrow Jack Rottinghouse lives in- sounds like a horror movie? Wait 'till you hear the album.