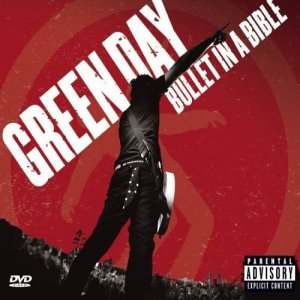 American Idiot
a new album, documenting a live show, in cd and DVD is out, titled "bullet in a bible".
The CD\DVD is a documentary of the band live shows in national bowl in Milton Keynes, giving as a grasp of how this band sounds in the peak of their career for now.
The setlist is mostly compiled by track list of "American idiot" (which makes a lot of sense). starting of with the energetic theme song "American idiot" and is followed by the natural flow of the album (including the 10 min "Jesus of suburbia" and skips the hits "boulevard of broken dreams" which is preserved for later on in the evening) up until track six, from that point on they turn to "best of" formula, which they do just in time, not making this a live copy of the album (which in my opinion is a good thing), of course hits like "Basket case" and "Good riddance" (which closes the album ), and between their older hits the slip new ones such as "wake me up when September ends" and "boulevard of broken dreams". And a great surprise is a combo of the classic "shout" and "king for a day" (out of 1997's Nimrod).
Sound wise, the album gives as a good glimpse of both worlds, we get a very good sound an feeling from the excited crowed which Armstrong hyped in any given moment (at one point shouts out to the crowed encouraging them to scream as loud as they can so every redneck in America can hear them). Along that, we get an excellent sound of the bands live show, not missing any details or getting any blurred moments of their music. Mixed perfectly and passes on the thrill of the live experience.
The band is communicating with the audience as much as possible can in between songs as well as in between lyrics, Armstrong doesn't miss one chance to talk and encourage his crowd to break all loose.
Performance wise, that are no complains but compliments on their playing, which seems even better live then in the albums, this time are also some enforcement players, so the band won't have to compromise on any parts played in the album, a lot of effort was put in this show, and it's noticed.
The DVD is a great documentation of the bands show, and includes interviews with the trio, capturing the magic as it happens.
This CD\DVD is a totally justified release, giving us a chance to see the band in one of the peaks of its career, showing us the almost only band that survives the mainstream without compromising on their music. Recommended for those who love to feel like they're in a live show while enjoying the comfort of a house, and to those who can't get enough of "American idiot".