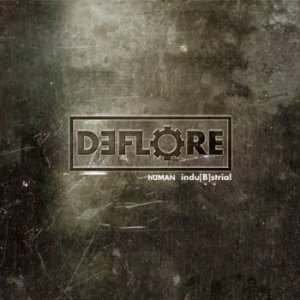 The bands ,which comes of with a tight well produced sound , crashed into Romes underground scene quite fast, after performing as an opening act for Marlene Kuntz at the Enzimi festival, from that point on, with more powerful shows on the road, they caught the medias attention, magazines, webzine, and the subsound label which they are licensed on its behalf.
Indu(b)strial is a great debut album for Deflore, and gives them a great starting point, the entire album is instrumental and doesn't lost attention or variety in its sounds and moods, lies in a dark mellow atmosphere, creating a perfect club or even private room settings.
The album starts with the opening track titled Emostaico, it opens up slowly, creating a tension as you wait for the out brake, a feeling that lasts exactly till the anticipated moments arrives, from that point on you can get forever lost in the walls of noise and distortion with an industrial based grooves.
Another ecstatic piece is Emilionero, which is slower by definition and works on a more intimate level, gives you this psychosis feeling, taking a look deep down inside you and leads you off to an insane schizophrenia that you are the only one aware to it.
The group stay put in it's own genre definitions and doesn't seem to try to blend into other genres, which I say in the most positive way, as for that, they mange to control the boards of their own style and able to rule their own domain without losing credit for trying to much.
Indu(b)strial is a great start off for this (I would say unique) band, Deflore, they definitely caught my attention and gave me something to get excited about., and I'm still waiting to hear what will come up next for this group, hoping it will keep on flourishing.