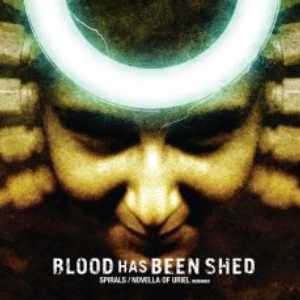 Howard Jones's growls fit the sometimes off-beat guitar riffing well, and his clean vocals (which are rarely found among the 24 tracks) resemble the ones of Brandon Boyd (Incubus)- a good example is the 6th track , Uatu.
One of the high-lights on the first album, Spirals (originally released in 2003), is the intro "Beatnik" which leads to "Beginner's Luck"- "Beatnik" starts with a bell that is later swallowed by some sort of a tribal tempo that fades out right into "Beginner's Luck".
The follow-up, "Technicolor Jackets" is probably my favorite track out of "Spirals", featuring both growls and clean vocals and odd time signatures.
"Weeping Willow", the 11th track, is an ambient one with no seeming connection to the rest of the album- perhaps it is there just as a break.
"Novella of Uriel" differs from "Spirals" in both guitars and drumwork.
It seems the guitarist, Corey Ungar, is simply doing a better job- using more diverse riffs instead of just pounding in heavy distortion senselessly.
In both albums, John Lynch (drums) shows great technique- managing to sound like Meshuggah or at least heavily influenced by it.
The main high-lights in "Novella…" is "Wetwork", which opens it, and "Faded Pictures Faded Memories" – both are simply slightly more intriguing then the rest.
The album ends with a Scottish bagpipe leading to the best track out of the two albums titled "Metamorph".
This reissue of both albums gives the listener a good view on BHBS as well as plenty of head banging material with anticipation to how this band's next album would sound like.