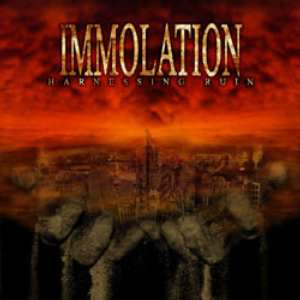 Now that the stoning is done, let me explain why.
Though similar in some things to the band's former album, Unholy Cult, they're first for French label Listenable Records, this album takes death metal and turns it upside down.
They're trademarks fast riffing and deep growled vocals are there, but they create such an array of bludgeoning riffs and smart structures that this album never ceases to amaze, it has the brutality of Cannibal Corpse and the sophistication of Cryptopsy, but sounds different and unique altogether.
Out Savior Sleeps opens the proceedings with this deep, fast riff, and continues in turning death metal into something completely different, it has this black metal vibe in it, something that was always there in the band, but it's just dissimilar from any other thing that I know, Ross Dolan's vocals remain deep and still come off as clear, a bit like deep speech with a growled after taste.
I cant praise the production job enough, Paul Orofino manages to maintain a delicate balance of the aggressive and clear, and the steady barrage of fast guitar riffs and brutal drumming manages to sound complete and clear, it's harsh melodies always there.
The title song is one of Immolation strongest cuts ever, it has that ingenuity in the riffing that existed in Dawn Of Possession, but the sound comes off a lot better, and the over whole feeling of sophistication just elevates it further.
Extra kudos goes to Robert Vigna's lead work, its death metal lead work as it should be, fast, chaotic, it sounds different than any other metal lead work that I know off, and that's the biggest thing for me in this album, I cant really compare this to anything, this is as un-standard as I know, unique death metal, and I love it.