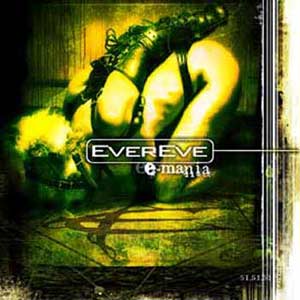 th album of the German band Evereve.
Evereve keeps doing Gothic Metal with new electronic elements, the programming and mastering done by Joerg Huettner (Dorsetshire, Relatives Menschsein & Monaco X) and creates the synthetic sounds for all new songs.
The former vocalist Tom Sedotscenko has commit suicide on 1999, the band took a guest vocalist for the album that came later the same year - "Regret".
E-Mania features the keyboard player, MZ Eve 51, for the first time as the band's vocalist.
The album was produced by Gerhard Magin (eg. Crematory, Theatre of Tragedy, etc…).
I think that the album sounds very good a mixture of electronic elements and the band's gothic metal style.
Songs like "Pilgrimage" & "The flesh divine" sounds like a good refreshing in Evereve's sounds when it's mixed with the new electronic elements.
The song "Ligeia" starts with a heavy electronic sounds which breaks later by guitars.
The album has a very good cover version to the 80's Visage song – "Fade to Grey".
This album features a new part of the Gothic Metal world, Evereve define it as "Cyber Gothic Metal".