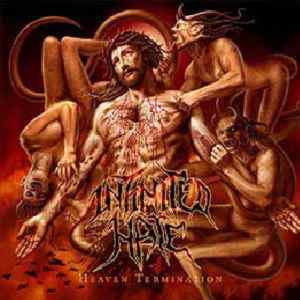 Aad here does the vocals, along with Sinister's Rachel, known for being one of the first female death metal growlists, who certainly posses a much harsher and deeper growl then Arch Enemy's Angela.
The album is unashamedly thick death metal, with some old-school orientation and thick sounding guitars, using some melodic guitar leads to sweeten up the aggressive mixture the band creates.
The double growled attack by Aad and Rachel is quite powerful , his growl is a bit thicker, but I wouldn't guess at her growls being made by a female vocalist, they are probably the heaviest growled female vocals ever.
The band excels in such track as Citadel Of Carnage and The Purity Corrupted, both being show stoppers, with some good riffing and solid rhythms.
Their use of melodic, well played lead guitar, thrown in the heavy, at times hectic sounding death meta, serves well to accentuate the diversity in the sound, making some tracks quite interesting and unusual.
The album ends on a high note with a cover version of the classic track Before Creation Of Time from veteran Viking death metal band Unleashed, the song is a bit harsher then the original version, ad the sound is certainly chunkier, but its still a good resemblance to the original.
The band has not opened up new horizons here, but they do deliver a solid death metal album, and as such, it's a very good one.