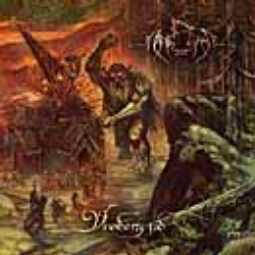 Taking their queue from bands such as Thyrfing, the band incorporates both folk and pagan metal with death metal influences, thus the vocals move from growled death metal ones to clean folkish ones, at times sounding like a harsher version of Falconer's original vocalist.
The band also incorporates some fine female vocals into their songs, using them to accentuate the clean male ones, they also sit in well with the atmosphere filled passages the band uses, also featuring violins.
The sound of the album, courtesy of the famed Underground Studios, is top notch, the clarity of the guitars and rhythm section does much to elevate the over whole feeling if quality emanating from the album.
My favorite track is probably the tragic and epic sounding Kologa Trolltand, roughly translated- Charcoal-Eye Troll-Tooth, a track that has some majestic guitar riffs and truly heavy growled vocals.
The title track, Vredens Tid, meaning-The Age Of Wrath, is another winner, again combining harsh aggressiveness with the melodic ability the band possesses.
So, raise you chalice, draw you sword and raise a prayer for Odin, for this is a Viking metal album to rejoice at.