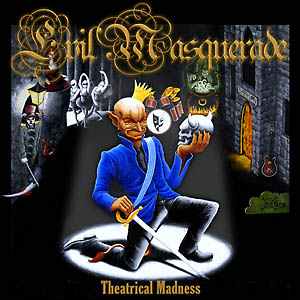 They didn't, they just made it a bit harder to take it all in than in the first one, this time, you need to think some more before you start seeing this album for the masterpiece is it.
The changes are subtle, the melodies are still there, the virtuosic playing abilities of the musicians, the soaring vocals, the fast and powerful songs, yet something's different, the album tends a bit more into progressiveness, with more twists and turns then in an Agatha Christie novel, and that's why it takes a few listening sessions to take it all in.
First, the band's concept is more evolved this time, the whole circus and theatrical theme is clearer and more evident in the songs, from the opener, the devilishly smart When Satan Calls, we're treated to a melodic concoction that sounds like Malmsteen meets Mr. Bungle, with some Helloween thrown on top.
The title song is one of the band's strongest cuts yet, yet has some mad tempo movements and guitar progressions that left me dazzled, quite similar in idea and tune to the last album's Welcome To The Show.
Bozo The Clown is a joke told with a straight face, ridiculously humoristic lyrics topped with a great melodic performance, its quite amazing to behold.
Now When Our Stars Are Falling is a slower tempo, almost ballad-like track, with the usual neo-classical flourishes, fantastic guitar work and a butt load of feeling, but it's the track after it, A Great Day To Die, that is the epic track that I like so much in an album like this, again, great chorus, strange passages that maintain a total lack of monotony, some more awe aspiring guitar leads, you get the picture.
Snow-white sounds as if taken from a musical show, it only has vocals and a keyboard melodic line, and according to the album's liner notes, it is part of a future stage show,
Witches Chant is an ingenious piece of theatrical madness (heh heh), with lyrics solely taken from Shakespeare's Macbeth, and a tune that sounds like a movie soundtrack done by a metal band, its one serious piece of originality.
As usual, band members do a sterling job, Brockmann is still one of the best power metal vocalists around, this time pushing his vocal capabilities even further than on the last effort, Dennis Buhl is still a great drummer, with dazzling double bass and cymbal work, Gram's bass playing is reminiscent of Helloween's Markus Grosskopf, fast and melodic, and Henrik Flyman's guitar playing is still one of the best in the business, also doing the great sound again.
Holy Masquerade has turned into one of my favorite active metal bands, And I urge anyone reading to give them a listen, you wont regret you did.