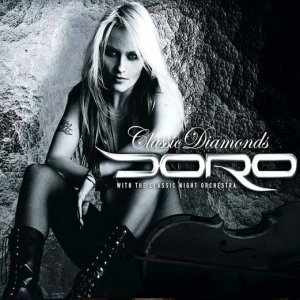 Doro's new album is a team up with the "Classic night orchestra" and together they perform some of her greatest hits in a new arrangement.
Lots of artists past and present has already preformed their old material with a live orchestra (from bands like Metallica to progressive bands like pain of salvation), which both put up high standards for the genre, after all you have to justify this gathering for make it worth while, it's a test that can build you, but also can break, how did Doro do? You'll find out in not to long.
The album opens with the track "I rule the ruins", perfect blend between the orchestra and Doro's metal material, very powerful, very impressive and stimulating, a perfect balance between force and elegance. In my opinion great arrangement with a very powerful performance.
In a perfect flow, begins "Metal tango". With an even more noticed orchestra parts, again, combine perfectly, instruments, texture and vocals, I believe this arrangements gives this song a new depth. Specially parts like the violin solo coming just right before the guitar solo, great combination.
Standing out songs are the like of "All we are", "Fur immer", "Undying" "Love me in black", all backed up wonderfully by the orchestra, but sometimes makes Doro's vocals disappear a bit.
At the end of the day, the orchestra works great in total, but expect for a few songs, its arrangements and parts aren't to unexpected or sophisticated and its potential hasn't reached to its fullest, on the other hand, (the one that counts in my opinion), Doro establish to make a perfect blend between both styles, and she does it naturally without making it sound unnatural in any way, where many others has fallen.
The album won't be remembered as the greatest orchestral metal album in history, on the other hand, I don't think that this was the intentions while in making, a beautiful adding for Doro fans, but if you're a newbie, I suggest you go way back first.