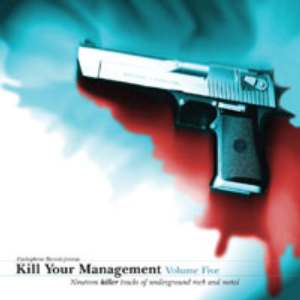 Various Artists - Kill Your Management Volume 5 - [Psychophonic Records]
19 tracks contributed by the best underground rock and metal bands. In search for recognition and advertising the underground a bit.
The album is very varied as it hold all kinds of different rock music, from soft pop-rock to hard core metal, with a great ongoing blend between songs and easy to listen, on of the greatest things about it that you are easily exposed to new kinds of rock that you might have missed not listening to the album.
The second greatest thing on this compilation is the justification to the upcoming re awareness to rock music, as all this bands and styles, have lots to offer and everybody can find something they'll love on this album, and all bands here are definitely loaded with talent.
The production is mostly very good, and only one band who showed themselves live were "magas eyes" that did a great job with a great energetic and touching performance.
A great album for all rock and metal fans with an open mind, energetic, varied, and mostly fun.