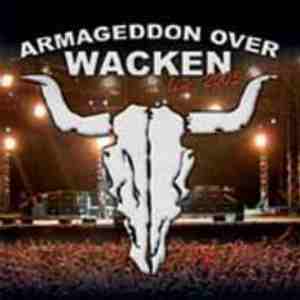 Various Artists - Armageddon over Wacken 2003 - [Armageddon Music]
In my opinion live albums have always been a bit troubled to appreciate, because you always have to choose which element is more important for the home audience to listen to, the band, or the audience around. This album has easily dealt with this problem, it has both of the elements heard in a perfect mixture, you can mostly feel the audience, the energy and excitement without giving out on any of the different groups qualities, they both pass perfectly into the home stereo and create an incredible concert feeling right at your own home.
Even though each track is played by a different band there are no "dead moments" as I refer to it, each song follows the other with no delays, with no "cut" feeling to it, which in most live album is very noticeable.
All bands are in peak condition and sound great playing live, full of energy, and full of power,
The compilation of all this bands is a great testimony of the current metal scene and a proof that it is live and kicking, the audience is very enthusiastic and very much hungry for some great music as all different groups happily feed them, and they can never get enough.
From production points of view this album I very powerful, it has great intermissions (basically the roaring crowd) between track, and each track sounds great, they have great sound, great instruments balance.
On this double album you can find representatives from great world wide acknowledged metal bands as well as more local underground bands.
There are lots of highlights in this album, as all groups give a very powerful performances, In flames, which open up the album, gives an energetic performance that kicks you right in business and is followed by great track performed by Subway to sally and the great sonata arctica. Another great performance is delivered by Metalium with a great track called "Pain crawls in the night".
This album is what I love to call a "play album", you push the play button on your stereo and you never meddle from that point on, you just listen to it as a whole because every moment of it is wonderful.