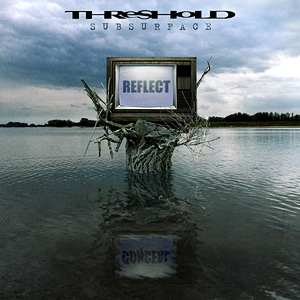 Threshold is suffering from a never ending problem that I believe any band in the world will love suffering from, they always have to upscale their former album, and in their case, it's not easy, for the band has released a line of great albums, but in this album. It's even better, more powerful and with the ability to reach your heart In several occasions.
The opening track "mission profile", a track with messages of democracy and freedom begins with very atmospheric keyboard sound and great vocal melodies backed up by great guitar riffs, a proper head start for a great album.
This albums epic piece is a track called "The art of reason" and presents the band in all its glory, with great hard riffs, great vocal parts (contribute by their great vocalist Andrew McDermott), atmospheric keyboard sound and even greater rhythm section.
Talking about rhythm section, this is the premiere album for new bass player Steve Anderson, that does great work with some enthusiastic bass lines.
Most of the tracks doesn't give as very complex, the song structure seems quite simple. The vocal melodies has a glam metal feeling without being over potencies, guitar sounds that seem to be very influenced by metal riffs, and even though there is no technical show offs, they manage to produce great touching solos, with much aggression but still emotional.
The band, that up until lately suffered from multi line up changing (including vocalist), which in my opinion was for its worse, because it cause certain instability for the band and depriving it from the glory it deserves, is now showing the best line up of its entire career, each one of the player soot's perfectly and know how to blend in with the band, great vocal from Andrews part, he manage to stay upfront without over casting the entire instrumental section.
The special edition version has a bonus track titles "what about me" and a multimedia bit, a clip for the song "pressure"
A recommended album for all melodic metal lovers, and I guess that every progmetal fan already has a copy at home, and if not, now's the time to get it! Don't miss out on this great album, probably one of the greatest this year!.