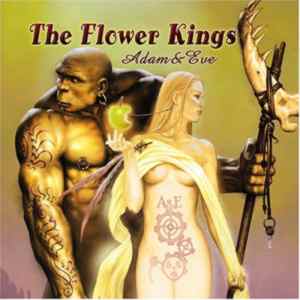 Adam & Eve is the eleventh album released by this Swedish prog rock band , that once again succeed in reinventing themselves with their own unique sound.
To this wonderful ride, Roine stolt in his band are joined by none other then Daniel Gildenlow (the mastermind behind the prog metal band Pain of salvation). When Stolt was asked if he believes that Daniel fits in the bands musical environment, he immediately answered that he never doubted the amazing energy and influence Daniel will bring to the band, BOY was he right!!!.
The album starts with the wonderful epic called "Love supreme", and talks about the ideal world and the meaning of existence and the glorious creations that we are surrounded by, and all of his wonderful lyrics are backed up by these wonderful cosmic (when you listen to "The flower kings" music, the word cosmic is the first one that comes to mind). With Stolts well known full of feel solos.
On this album, Stolts takes less control over singing, and all the band contributes to all the harmonies, and in fact, this album has a few of the most amazing harmonies I've heard in a long time.
Another masterpiece is a track titles "A vampires view", a dark romantic piece, which tells about the life of a vampire, that is forever torn between his empty mortality and his unfulfilled passion for life.
Gildnelow takes the control on the vocals for this one, and does a wonderful exiting job passing the desperation and the emptiness in the vampires life.
And only a transmission track away, is the wonderful Theme song "Adam & Eve", which tells the story of Adam and Eve as two not innocent individuals and later on we learn that the song talks about all relations between men and women in general.
Another epic, is the song "Drivers seat", talks about situation in which you have to take control over your own life and follows to the closing instrumental track that goes by the name "the blade of cain", a peaceful powerful track.
The album is definitely one of the best ones I've heard lately, and adding Gildenlow to the group has definitely been nothing but blissful to this group, before they were great, and now, they are more then excellent, it's great to hear a new record from an old beloved band and find out it is amazing.
A definite must have album, it is prog rock in its most glorious form, with variety , interesting topics and great interesting lyrics.
Amazing!