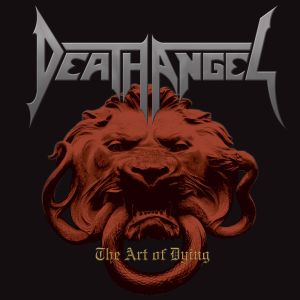 The Art Of Dying is their best, most diverse, and just plainly ass kicking album to date, and keep in mind that they already delivered three of the best thrash albums of all time, this time they combine their thrash qualities with some punk sensibility, hard rock feel, and spiritual themes, and it all works just fine.
Seeing the Death Angel logo on the cover almost brought tears to my eyes, when the band departed following the Act III album I was sure they shall never return and I sure am glad they did.
Opening the album is the thrash masterpiece Thrown To The Wolves, a blazing thrash monster, complete with raging rhythm guitars, fast and precise drumming, and Mark's vocals have never sounded this good, the sound is also immediately clear and crunchy, showcasing a first class mix job.
5 Steps Of Freedom is a different album, and the band's adventures attitude is revealed, a slower tempo than the first track, this song grows on you, it's great chorus is both catchy and energizing, and it also demonstrates the band's justified reputation for having some of the finest lead guitars in the scene.
Thicker Than Blood is a punk driven number, all thorns and rough edges,
Since punk and hard core are two of the great influences in the creation of thrash, the song sounds in-synch with other, less punk driven tracks.
The Devil Incarnate is a candidate for my favorite track ion the album, an hypnotic riff sets it off, the vocals are deceptively calm and venomous, and the track manages to build some great atmosphere and energy at once.
Prophecy has the best opening riff this side of Testament's The New Order which has the same basic idea, the track itself is an epic metallic number, thrash at its best.
While Act III had some mellower bits, such as Veil Of Deception and A Room With A view, this album rarely slows down, and when it does, it only gets heavier later.
All in All, there's no weak track here, with vocals handled mainly by Mark but also by guitarist Rob and Andy, who are also seasoned vocalists in their own right, and the different musical approaches are evident in the tracks, something which adds a lot of flavor to the proceedings.
Purchase this, metal people, it's a certain classic.