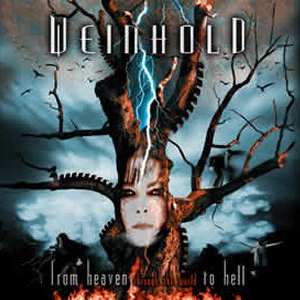 Following the demise of her past bands, and after taking some well earned time off from the metal scene, Jutta is back with a bang with her latest offering, From Heaven Through The World To Hell.
The album benefits from a magnificent production, rich and well-textured, the amazing guitar work of Kai Reuter, and, of course, an over the top, all guns blazing vocal attack by Weinhold.
The album's lyrical content is varied, to say the least, from the epic Macbeth, telling that Shakespearian's character's tale, to the more hard rock like My Own Sister and Rock Of Metal.
Musically, this is a combination of old school hard rock, more evident in the latter half of the album, and progressive, vocally rich metal, in such tracks as Metamorphosis and Macbeth.
The guitar work really shines here, imaginative, well crafted, great melodic solos, the album truly manages to inspire awe with its complex and highly textured guitar lines,
Yet Jutta's extremely powerful vocals are the main drawing point, potent and clear, her use of multi recorded vocal parts and smart chorus like parts really accentuates the albums wide range.
Definite stand out tracks are the opening, middle tempo metal with an eastern twist, and Macbeth, with its operatic vocals and orchestral richness.
A fine, varied album, let's hope this time Jutta is here to stay!