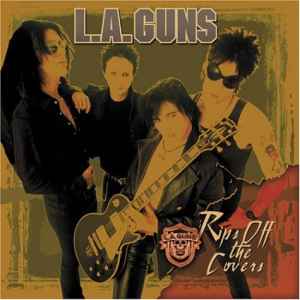 The band kept on recording through the years, yet somehow the records fell through, never really reaching a proper audience, it was the return of original vocalist Phil Lewis a few years back which brought the band back into the spotlight,
Their newest album is actually a covers album, a tribute to the bands that influenced the band during their career, and it has its share of surprises.
The first track is a cover of a classic track by Aussie hard rockers, Rose Tattoo, a veteran band, which somehow never reached the heights fellow countrymen, AC/DC did, the song is a good one, and the cover does it justice, good, raw sound, and the rock n' roll swagger of it rings true.
Tie Your Mother Down, off Queen's A Day At The Races album is somewhat more surprising, yet has a certain logic too it, being the band's most hard-rock, wild sounding track, there are some tonal changes, as in the vocals, but the cover works well.
Until I Get You is a cover of an Hanoi Rocks track, another hard-hitting hard rock band which had its share of success in the eighties, the original track is not a favorite of mine, and so the cover isn't one of my choice cuts as well.
Wheels Of Steel is a great track by NWOBHM greats, Saxon, an excellent band, and the interaction between the original tracks British metal riffs with the American hard rock of the Guns works extremely well.
Nobody's Fault is probably Aerosmith's best song ever, already covered by Testament some time ago, its my favorite track here, Phil vocals do the track justice, and it has a lot of drive and energy.
The album also sees the band performing Zeppelin's Custard Pie, off my favorite Zeppelin album, Physical Graffiti, a not-so-bad cover of Bowie's Moonage Daydream, already cover by Racer X in their second album, and also a great cover of Marseilles, by veteran Aussie rockers, Angels.
A covers album is never similar to a regular studio one, but this is a fine example of how one should be made, now I cant wait to hear the band's next studio album.