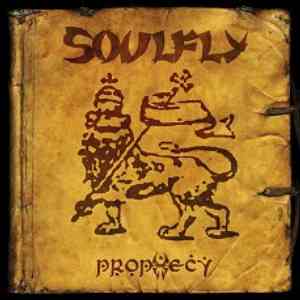 The man who was the basis of one of metal's all time greatest bands, Sepultura, left the group while it was at the peak of its success, and created the entity known as Soulfly, combing Max tendency for mysticism and spiritual based concepts, while tribal music and the same aggressive, raw metal he created while in Sepultura.
The gamble was a successful one, the band held its own through the tidal wave of nu metal bands, using tribal rhythms, Indian and south American influences, and Max spiritually oriented lyrics.
For me, it was a sad event, Sepultura seemingly died, the band found a replacement for max, but it just wasn't it, and Soulfly wasn't my cup of tea either.
'Till I heard Prophecy.
A warning, this is no arise, musically this is quite the twin if the roots album, Max's last with Sepultura, but besides that fact, this is the best thing created in the Supultura vein since Chaos ad came out, better, I think, than roots.
Max is accompanied by a solid line up, an excellent drummer and percussionist, a
Multi talented guitarist, even contributing some flamenco guitar parts, and a top notch sound, mixed, of course, by the ever efficient Terry Date.
The album opens with the title track, also the album first video clip, is has Roots written all over it, a simple, half-tribal rhythm, tuned down guitars, and Max's roaring vocals, the songs structures is simplistic enough, but its a solid slab of metal, catchy and fluid.
Track two is another Sepultura clone; the vocals' rhythm is sounds tribal, a great middle section that halts the aggressiveness in favor of an almost improvisational sounding segment.
Track three is another aggressive, fast cut, track four, Mars, is the best song here, great text, intricate, unordinary tune, quite similar to the stuff Sepultura were doing in their prime.
Things take a turn for the bizarre with I Believe, which expresses Max's more spiritual side, a metal track which breaks for a chorus of classical guitars and female vocals, this might piss off the really hard-core metalists out there, but the next track will definitely throw them over the edge, Moses is Reggae-metal, and more reggae than metal, but I have to admit I rather liked it.
Born again anarchist sets things back on course, but the last track, Wings, is another off-kilt number.
This album guaranteed one thing, I shall have to listen to the next album, because most of the time, I had this fuzzy feeling of listening to Sepultura at their finest again, and the rest of time I just enjoyed Max's sense of adventure and musical courage.