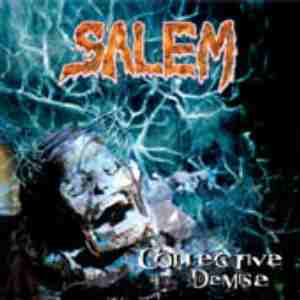 For those who aren't familiar with Salem's past, a short exposition: their previous album, "A Moment of Silence", had been quite a musical breakthrough. After releasing earlier albums tending towards doom-death and grind at first ("Creating Our Sins"), later shifting towards a more refined Doom approach ("Kaddish"), On "A Moment Of Silence", considered by many a true masterpiece, they hired famed Colin Richardson as a producer, to deliver a more commercial (not necessarily in the bad meaning of the word) effort, brilliantly produced and arranged, mixing oriental Doom and Death influenced with a well noticed Gothic touch, represented by very dominant clean vocals, and more Heavy-Metal oriented song structures and melodies.
And now, issuing a new album, the essential question is raised: will Salem proceed on their journey towards mainstream, or once again alter their musical direction?
The answer would definitely be the latter one.
As you hear the near-blastbeats of "Collective Demise"'s opening track, one can clearly realize Salem had abandoned the Gothic realms. No colin Richardson here: This album is self produced by Salem, which apparently chose, instead of streching out of their skin in order to appeal to the international market (surprisingly enough, considering the album being released on a German label), to turn their back to the world community, and exclaim their protest regarding the degrading situation in their home counrty: vocalist Ze'ev Tananboim excruciatingly growls lyrics dealing with the horrible state of Israel: war, seperation, decadence, the overall feeling of being abandoned by god, while the loyal rhythm section powerfully issues Death Metal phrases. Guitarist Lior Mizrahi presents his probably most-brutal work ever, at times even wielding the Black-Metal fast-picked playing fashion. Clean vocals, besides some minor female ones, are gone.
Compositions, still soaked with enchanting oriental feel, are able to maintain interest (even if not very diverse), well-fitting the harsh lyrical messages. Furthermore, It seems that the band members know a thing or two about the art of album production as well: a great seperation between the instruments is achieved, enabling each part to be heard a perfectly, yet maintaining the existence of the group as an integrated unit.
A stand out track would be Al-Taser, a great interpertaion to a bible phrase, desperately begging God to stick with the Israeli people.
Recommended!