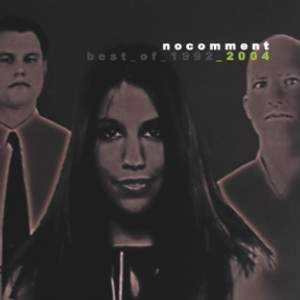 If we will look back into the past, The bands that have represented this genre were a "New Wave" bands that were in the mainstream, the direction was electro pop / EuroPop. They became the classic hits of this genre. The best examples are: Depeche Mode, Yazzo & eraser, the main connection of those bands is: the keyboard player – Vince Clark. But you can't forget bands such as Bronski Beat and more…
Today This genre is taking the inspiration from the 80's music with today's sounds. Sounds that more familiar with Techno, house, Trance & Industrial music, creating a mixture of them. Sometimes it gets a dark shades.
nocomment is a German band that play sysnthypop with today's sounds, with female vocalist in a few songs, some songs has male vocals with background vocals.
The band exists since 1992 and released 6 mini CDs (Maxi Singles), 4 albums, double album & double collection.
The double collection has 30 songs from first till the last songs.
It is separated into 2 CDs:
The first CD has 16 songs from 1998 till 2002, some are unreleased versions, and some are remixes. The CD is very melodic and nice.
The production is very good, updated and original to this kind of genre, which still considered – underground.
I have no doubt that the band will gain a lot of fans in the future. They have a lot to offer to the mainstream. If they will get the opportunity from MTV, radio stations and clubs – they will definitely succeed.
The Second CD is more into the old material. Some kind of - post synthypop of the 90's. More influenced from the roots of this genre – but very good, I liked it a lot.
The production is more simple – but very good.
The songs are from the years 1992 till 1995. It even has 1 song from 1990 – the last song – "Opera for a dead plastic child".
The CD has 14 songs from the time they didn't have female vocals, also a few remixes.
It has another bonus – a password for the band's internet web site to download songs which will released in the future till 2004. This password will give the opportunity to download 10 songs in the next 2 years.
This collection is very good. I recommend it and hope you will enjoy it as I have.