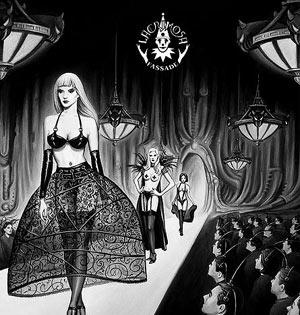 The Fassade album sounds like a dramatic theatre act, very interesting mixture of guitars, various strings instruments, orchestra and off course the singing of Tilo Wolff & Anne Nurmi.
The 1st track – "Fassade – 1.satz" is opend with the tradition of Lacrimosa – a dramatic classical music with the singing of Tillo Wolff. This is a very good opener to this album that lets you to step inside the world of Lacrimosa.
The next songs has the same elements and more guitars that makes it more live also you can here more of the singing of Anne which add some enchantment to the music.
This atmosphere continue in the 4th track – "Warum so tief?" that begins with a Tilo's deep singing with a verity of keyboard sounds that makes the atmosphere more dark.
The 5th song - "Fassade – 2.satz" is one of the interesting songs in the album. It has a very sad atmosphere, it has more orchestral parts.
The 6th song - "Liebesspiel" shows the other side of Lacrimosa – the side that is closer the metal sound. You can notice the control of the guitars and the fast drums parts, the amazing thing that it's still keeps the dramatic album atmosphere.
The next song – "Stumme Wrote" brings again a quit sad music which is continued in the last song – "Fassade – 3.sats", it has orchestral parts and than the dramatic heavy parts are entered with guitars that mixed with the orchestra gives this album a good finish point and keeps the spirit of Lacrimosa.
After a decade of making music, Lacrimosa is keeping doing a very interesting music and they are sure not just another gothic metal band.