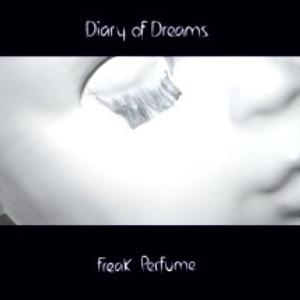 Adrian Hates, Alistair Kane, Olaf Schaning and Christian Berghoff has been working for almost 3 years since the release of "one of 18 angels" to complete "freak perfume", undoubtedly the most mature, deep and sophisticated Dark Wave project I've heard since Appex Twin which I'm not sure quite fit this category.
In the last decade D.O.D had developed from a small but good underground project to one of the biggest, widely distributed E.B.M productions in the scene.
'Freak Perfume" is psychotic concept album that connects Electro-Goth with a personal war against the self and the world on a clinical, fictional background.
The disk opens with the quite piano of "Trum:A" and within half a minute wraps the listener with the powerful sweeping Goth that became D.O.D trademark.
"Freak Perfume" flows smoothly from one track to another and consists of several potential club hits such as "Trum:A", "The Curse" and "She" as well as some beautiful electronic ballads "Chyrsalis" and "Verdict".
Hates creates sort of a global atmosphere with a song in German "Traumtänzer" and another one in French "rebellion".
A production polished to an almost theatrical level by Adrian hates himself in almost every song. A rich and enveloping sound , the use of acoustic instruments all along the album give a certain class and style that elevates the project to a slightly higher level from most of the Dark-Wave in our days that turns more to directions of Trance and 90s Techno. Hates uses very good samples of himself I believe and guest vocalist Melanie Jost.
There are 15 songs plus 3 bonus, not very interesting remixes.
A very long and intriguing album that uses the elctronica as an instrument for bringing out the fictional-psychotic concept and not as a musical medium to dictate the disk to, for change.