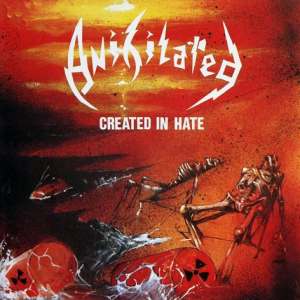 Hi Mark! I'd like to start with current events, is there a chance of an Anihilated reunion?
Hi Alon, firstly thanks for asking me to do this interview, the amount of interest in the band over the past few years has been great. I don't think there is any chance of a reunion though; Bod (drummer) is the only one still playing now. Si injured his back badly a few years ago, Lee hasn't played since the band split and I packed up a few years ago …
What about the talks of a DVD for the band?
I have got some live videos of the band, there was never any videos released and I think it might be something that people would want to see. They are just camcorder films but it gives you a real feel of the atmosphere. Not sure if and when we'll do it, if anyone's interested let me know!!
I know you've re-released your first EP, what can you tell us about it?
The first EP was a very raw self-financed recording. Ok the sound is not great but it has a lot of power and I think it's very original. We have included an earlier demo and some live recordings on the CD too, so there are 13 tracks in all, but some have live and demo versions.
What about the rest of your material, will it be re-released as well?
It already is! The only thing that is not available on CD at the moment is the very first demo, which is very punk..
The first album, Created In Hate and the second album, The Ultimate Desecration are both on CDr and can be bought from
our website
. There is also a 3 track live CD which has two previously un-released tracks on it.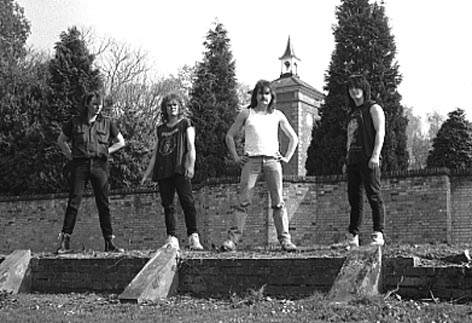 Now back in history, can you tell us how did you guys start out?
The band first started out as a punk group in the early 1980's, I think they all knew each other from school; I first met them when my band at the time Poison did a gig with them. We ended up doing a few gigs together and when my band had folded and Anihilated decided to add a second guitarist they asked me. My style of playing was a bit more riffy / metal sounding so as they were still a punk band I think some of them were not sure. But it worked out ok in the end…
What were your initial influences when starting out?
So many different ones over the years…. I would have to say personally when I very first started playing it would have to be PIL, The sex pistols, UK Subs, Discharge, Subhumans and later of course, Slayer and Metallica, but this is just a fraction of a very long list!
How did your gradually move from more punk oriented music to thrash begin?
I liked punk but I had also been into metal, Motorhead, Saxon, AC-DC, all that kind of stuff for a long time. Si (vocals and Guitar) was pretty much the same so I always felt that that was why he wanted me in the band. When I first joined we still did the punk songs for a while but for us to become thrash it was a natural progression and came to us easily. Our Bass player Lee was the only one who wasn't quite so happy about it; But Bod (drummer) also took to it well and was a brilliant thrash metal drummer.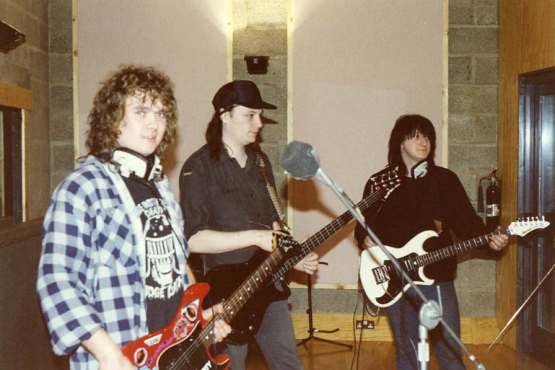 What recollections do you have from the UK thrash scene that existed at that time?
We had some really good laughs, we did gigs up and down the country and wherever we went something to remember happened. We have a whole load of stories on our website, but I won't go into any now, they're all a bit long.
It seemed to me that a lot of the other bands around thought too much of themselves and weren't very friendly. There was often a bit of a problem with people who liked us when we were punk and didn't like that we had changed. We played with the English Dogs a few times and there always seemed to be trouble.
Thrash was so new in the UK it was difficult to get gigs in the early days, there were places that put on punk gigs and places that did rock, but nothing for thrash. I can't say that it was a great scene, although gigs at the Clarendon in London were always pretty manic.
Why did the band fold?
I left at the start of 1990, when I lost interest. We had been ripped of by Metalworks over our second album and were left with no tour to promote it, no other promotion, no money and none of the equipment that was promised to us, it was a difficult time.
The band did carry on for a while with a new guitarist and then also a new bassist but nothing ever came of it.
What were you doing after it broke up?
I have always been into all sorts of music, I don't care what type of music it is, if I like a song, then I like it! So I wanted to do something different. I started by doing a load of gothic stuff, and then an indie band, which over the years changed into a very good kind of Punk pop band, called
Love Lies Bleeding
. I think I finally stopped playing in about 1995 when I just wasn't enjoying it anymore. I did do a CD of my own acoustic stuff during this period called Songs For Darkness. There are some mp3's on
http://markbeuchet.mediasite.de
.
What caused you to start a web site for the band?
It all came about because of a guy called Leon. He had come across Bods bands website and sent him an email asking if he was the same Bod that used to be in Anihilated. He then said he was doing a website about Anihilated and could we contribute any pictures and info for it.
We soon realised that there was still a lot of interest in the band. So, I decided to do my own site about the band. Si still had master tapes for most of our recordings so I decided to get it all onto CD.
Do you still hear reactions from people who were fans of the band?
Yes! It's really weird after all this time but I have had emails and sold CD's to people in Czech Republic, Germany, Ukraine, Russia, Taiwan, Japan, France, America, Australia…the list goes on. But strangely enough only a few from the UK. We never knew that our music had got so far and to so many people.
What music do you listen to these days?
Like I said before, I like all sorts, at the moment I'm listening to My Chemical Romance, Ash, Jose Gonzales, Sum 41, all sorts of stuff. Still dig out the old punk stuff and Slayer from time to time.
Do you foresee a comeback to thrash metal?
I think things have changed so much now; Thrash is still in a lot of today's music, and it still influences a lot of musicians. So it's still out there…
Any last words to the fans out there?
I'd like to say thanks to all the people who've emailed us and bought the CD's. The band would be nothing without you. Also, I want to thank you Alon, and all of the Magazines, online Zines and Radio stations who have got in contact and done interviews or are playing our music on their shows. It's great to know we haven't been forgotten… We reply to all emails, so if you want to get in contact just email through the address on our website.
Thanks.
That's it, thanks for doing this interview!
Alon Miasnikov