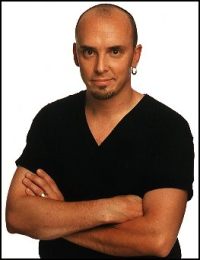 Though mostly known for it's members affiliations with such illustrious bands as Queensryche and Brother Cane, Slave To The System's debut album is a true powerhouse of rock music, to discuss the release and the band's origins, we spoke with the band's drummer, Queensryche's own Scott Rockenfield:
1. Hey Scott, I'd like to start with current events, what is the band up to Now?
SR: WE ARE CURRENTLY PREPARING FOR THE WORLDWIDE RELEASE ON FEB 21ST...AND WE ARE ALSO WORKING TO SEE IF WE CAN PLAN ANY UP AND COMING SHOW IN THE USA VERY SOON...
2. What kind of live shows are you doing to support the release?
SR: WE DO NOT HAVE ANY BIG PLANS TO TOUR AS OF YET, BUT WE MAY PLAY A FEW SPECIALITY SHOWS TO SUPPORT THE RELEASE...!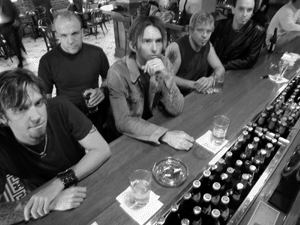 3. Some info on the line-up, I know you and Kelly are in Queensryche, in what bands do the other members play?
SR: KELLY WAS FORMERLY IN QR, AND DAMON JOHNSON AND ROMAN GLICK WERE BOTH IN BROTHER CANE.
4. How do you manage to combine your time lines with live shows?
SR: WE JUST TRY AND SPEND TIME WORKING OUT OUR DIFFERENT SCHEDULES WITH MY PARTICIPATION IN QUEENSRYCHE AND DAMONS IN ALICE COOPER.
5. How would you describe the band's music?
SR: LEAN, MEAN ROCK...!!!!
6. The vocals and some riffs reminded of my of such grunge bands as Alice In Chains, were they an influence?
SR: ALL OUR MUSICAL TASTES THROUGH OUR YEARS OF GROWING UP AS KIDS UNTIL NOW, ARE ALL AN INFLUENCE..!
7. Can you tell us how did you guys meet up and decide to form a band?
SR: KELLY HAD WORKED WITH BROTHER CANE AND WAS VERY CLOSE TO DAMON AND ROMAN, AND SO KELLY ASKED IF I WOULD LIKE TO WORK ON A PROJECT WITH THEM....THE REST HAS NOW BECAME HISTORY AS THEY SAY..HAHA...!!
8. What's the deal behind Scotty Heard's leaving the band?
SR: SCOTTY HEARD DEPARTED THE BAND MANY YEARS AGO, AS HE WAS LOOKING TO EXPLORE OTHER AVENUES.
9. What do the band's lyrics speak of?
SR: WE WOULD LIKE THE SONGS AND LYRICS TO SPEAK FOR THEMSELVES...TAKE A LISTEN!
10. You recorded the album in just three weeks, how did you do it that fast?
SR: WE REALLY FOUND AN INSTANT CHEMISTRY TOGETHER...OUR PLAN WAS TO BE RELAXED AND JUST WRITE COOL MUSIC, AND AS GOD WOULD HAVE IT, IT ALL FELT REALLY NATURAL...!!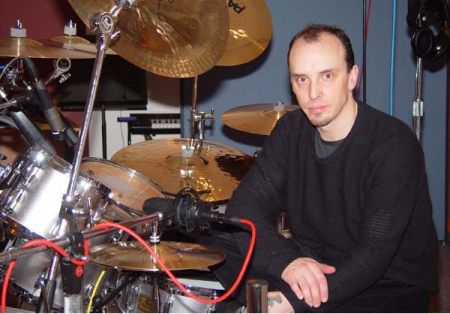 11. The album's sound is great, who produced it?
SR: THE RECORD WAS PRODUCED BY STTS AND MIXED BY KELLY GRAY.
Why did you guys decide on creating a different outfit than your own bands?
What is it that you do in this album that you couldn't in your own bands?
SR: WE ARE ALL JUST MUSICIANS WHO WANT TO KEEP EXPLORING DIFFERNET MUSICAL AVENUES. STTS IS A FOCUS ON RAW INTENSE SONGS WITH GREAT MELODIES AND LYRICS...IT'S THAT SIMPLE...!
12. Currently the band's web-site is your own, are there plans for a full-time web-site and maintain the band on a regular basis?
SR: YES
www.slavetothesystem.com
IS CURRENTLY OUR OFFICIAL WEBSITE, AND WE HAVE FURTHER PLANS TO KEEP EXPLORING ALL WAYS OF EXPOSING THE BAND...
13. With the new Queensryche album coming out, how do you expect your
Time-line to allow you to continue steady work with STTS?
SR: WE ARE ALL VERY GOOD AT FINDING THE TIME....HAHA...!!!!!
THANX....!!!---SCOTT ROCKENFIELD--STTS
Alon Miasnikov