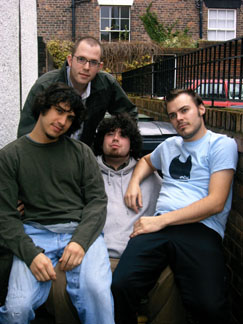 Hi Jim! I'd like to start with current events in the band, what are you doing these days?
We've just finished a UK tour to support the release of our EP 'Cult' and we've also been in the studio doing sessions for our debut album
What can you tell us about the Cult EP?
We recorded it with Ace (ex-skunk anansie) at the end of last year. It's taken a long time to get it released, but we're all still really happy with it. Four songs and a video. Pretty good value too!
How was it working with Ace as a producer?
Ace is great. He always has some really good ideas to bring to each song. I guess because he has also played in bands for so long, he understands what makes songs
work. He's really relaxed in the studio, and very easy to get on with.
How did you achieve the very unique guitar and bass sound?
I endorse Warwick bass equipment, and Rob endorses Framus guitar amps. When you put those two together, there isn't much that can go wrong! I also think part of it is just writing parts for the guitar and the bass that complement each other well.
How would you describe your musical direction?
Heavy, loud, hard-hitting, but with a smile.
What bands would you say influenced you most?
Soulfly, Skindred, System of a down, Rage against the machine probably. Soulfly and rage for the pure aggression, and skindred for the groove. A lot of people compare us to System, and I guess part of that just comes with having any sort of quirkiness in this
genre. But their first album was a big influence when we first started.
I recognized some Henry Rollins flavor in the vocals in "Cult", was he an influence, musically or lyrically?
Not at all actually. I don't think any of us have ever really listened to Rollins band, or black flag. But Henry is a great front man, you can't deny that.
Your music reminded me a lot of some classic hard core-metal bands from the 80's, stuff like Discharge, and S.OD, is that something you were going for?
Not particularly. We get this a lot though, when people say they recognize things in our music, which we didn't ever intend. I guess it's a compliment though, when people can always find something they like in what you do.
What do your lyrics deal in?
You'd have to ask Andres that one! Pretty much whatever is going on in his head. Sometimes it's crazy stuff, sometimes it's serious stuff. There's a lot of stuff about the war on the EP, but that's just because of when those songs were written. Occasionally we all
bring different lyrical ideas to the table, but Andres is the main lyric man.
A bit about your history, how did you guys meet each other?
Rob and Andres met in Italy. They went there to teach theatre and English to kids! After that, they came to Liverpool to try and start a band. Ross and I had met at university, and were already playing together in a different band. We met rob and dre one night, and it
all kinda fell into place.
Do you currently live in same area, being each from very different places?
Rob and Andres are still in Liverpool, but Ross and I live in Manchester.
Why call yourselves "Multi Purpose Chemical?"
That was rob and Andres' idea! All i know is it came about one night when they were very drunk!
Can you tell us about the making of the video for "Cult"?
We shot it on one afternoon with some friends of ours, who also do things occasionally for our label 'Honey records.' We basically just played the song in different positions, and then the magic came through the editing!
What live shows are planned for you?
Hopefully some more touring in the new year. Before long, we'll have a single and an album to support. There are more studio sessions planned for early 2006, so we'll probably be hitting the road properly march onwards.
Are you pro or anti the new Pub opening hours in the UK?
Definitely pro! I think some bars and clubs will take it too far, but a lot of the pubs are just extending the night by a few hours, and there's certainly nothing wrong with that!
That's it, cheers for doing this interview!
Alon Miasnikov