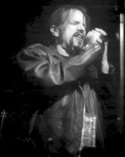 The death of metal legend David Wayne shocked metal fans around the world, one of metal's greatest vocalists, his passing seemed to have signaled the end of his old/new band Reverend.
It came as quite a pleasant surprise when band members announced that in accordance with David's request, they intend to forge on.
To see what's going on in the Reverend camp these days, the band's lead guitarist, Davey Lee, sat down and gave us the lowdown on current (and past) affairs:
Hi there! I'd like to start with the current status of the band and where does the vocalist situation stand as of now?
A: REVEREND is currently active looking for just the right vocalist so we can continue on with David Wayne's pursuit of "METAL".
As far as the vocalist; we have had countless demos come in from all over the world but, have yet to find the right singer that would fit. Don't get me wrong, every application we got was outstanding. It is one of those situations where we will know the right fit when we hear it. Dennis, David Wayne's brother, will be auditioning in person on the weekend of November 4th.
What is the story behind David Wayne's brother trying out for the vocalist position?
A: After David passed away, we kept in touch with his family assisting them with funeral arrangements and sharing stories about the metal master, "David Wayne."
I was talking with Dennis in reference to post funeral matters and during the conversation I asked him what the family's opinion was on us continuing with REVEREND at David's request, of course after a period of mourning. Dennis was quiet, which I respected then he scared the hell out of me and said, "Fuck Yeah!" Dennis also told us some fascinating stories of him traveling with David Wayne on a couple of METAL CHURCH tours during the 1980s. According to Dennis, David would tell him, "If anything happens to me, you go out there for me!"
Is there new written material by the band?
A. We have had a full REVEREND album written for some time. Due to David's physical condition, he was never strong enough to get the vocals finished. We all hoped he would beat his Illness, but as you know it never happened.
I'd like to go back to the band's beginning, how did you guys start out?
A. David Wayne started REVEREND after his departure from METAL CHURCH and there have been several incarnations of REVEREND with David Wayne. We are not the original members of REVEREND so my perspective will be from when I came into the picture. All of the current band members have been playing in the music business with our other band BYFIST. In the late eighties we did several tours with David and we developed a close friendship with him. In 2002 David called and offered me the lead guitarist position in REVEREND which I gladly accepted. It was not long after that when we started touring and kicking ass all over the world.
What were the members of the group doing as musicians before the band?
A. We had been especially busy with BYFIST. In 2000 David Wayne and Joe Floyd, of WARRIOR, produced the BYFIST EP, "Adrenalin," which was quite successful. To this day "Adrenalin" still receives great reviews and we get requests for it from all over the United States and Europe.
Why did David Disband Reverend in 2003?
A: Things slowed down a little for REVEREND and David received an offer from Stuart Anstis, former CRADLE OF FILTH guitarist, to join the European group BASTARDSUN. David saw an opportunity to revive his career in the Metal Community and accepted the invitation. Unfortunately due to problems with work visas and passports, it didn't work out.
Why did he re-form it?
A: Everyone who knew David Wayne knew he lived for music. When he saw that BASTARDSUN was not going to work out, he felt that was a "sign" and asked us if we would consider continuing on with REVEREND. Of course we said yes because we enjoyed touring with him and just being around him.

What were you doing in between that time?
A: We continued to tour and write songs with BYFIST. We knew David would be back, he was our brother and he had always told us we were the best incarnation of REVEREND he ever had. We, REVEREND, have always been well received from the crowd while on tour, and those are experiences you don't forget, especially when you are with David Wayne.
What were the reactions for the band's name being changed to "David Wayne's Metal Church"?
A: When David approached us about the name change his premise was to create world controversy. We were a little reluctant because his former band, METAL CHURCH, was beginning their tour. David convinced us this would be a fantastic marketing move. We agreed and started using the moniker "DAVID WAYNE's METAL CHURCH."
I'd like to ask a bit more about David as a person, what kind of man was he?
A: David was a great man. We were friends for well over 20 years and he never ceased to amaze me. He was very versed on all kinds of subjects and he had many experiences to share. He could sit and talk philosophy with anyone for hours on end.
He was very sure about his expectations and lived by them. When we were on tour he was sometimes hard to get along with because he was a perfectionist and expected others to be same. The world lost a great man when he died.
How did you here about his passing, and what were your thoughts upon hearing about that?
A: I was driving in my car when his girlfriend called me and told me she found him dead, I could not believe what I was hearing, I was in shock. When it finally sunk in I was very torn and angry. He was only 47 years old! How could he be taken? We had so many unfulfilled dreams yet to realize. Later a friend told me that the good Lord had taken him because whatever the master plan was he had completed it. Soon after thinking about it this, I accepted the fact and relived all the good times we had. This gave me closure to my closest friend and brother's death.
How and why did you guys decide on forging on?
A: The night before our first show as DAVID WAYNE's METAL CHURCH, David called us together for a band meeting. It was so different then any meeting we had ever had. During this meeting he thanked all of us for sticking by him all these years and gave us documents stating that in the event of his death his wishes were for us to continue and keep his memory alive. He signed over all the rights to REVEREND and gave us a detailed pecking order, or as he called it "Chain of Command," of who was in charge and what he wanted us to do. We questioned him on why he was doing this when he kept telling us he was getting better. Little did we know, this was our last band meeting with him. He died two months later. We truly believe he knew he didn't have long and wanted us to keep going. We are doing just that.
We have been highly criticized for continuing on as REVEREND, but we don't care! We will do as David asked and whoever has a problem with...well all I can say is, "TOO DAMN BAD!".
What are your current plans for the band?
A: Our plans are very clear; we will continue to make music as REVEREND and always keep the memory of David Wayne alive. If Dennis is the man, you can bet we will tour and make new records. If he is not we will find the person that can do justice to David and our songs. There is no such thing as a David Wayne replacement because there is only "ONE" David Wayne, but if we can get damn close, who could ask for more?
That's it, I wish the band good luck in carrying the torch lit by David, you certainly have my support!
Alon Miasnikov