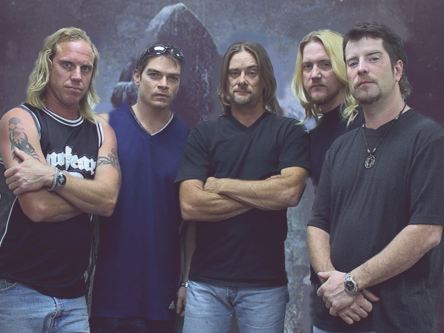 They were among thrash's forefathers, and for a while it seemed they we're destined for the same green pastures that bands such as Metallica and Megadeth roamed on, but somehow, the band's uncompromising attitude left them continually and constantly releasing quality albums, yet not really benefiting from the fruits of their labor.
The bands latest release, Dreams Of Death, brings them again into the limelight, and this time, hopefully more than the enlightened few will discover just how brilliant this band really is: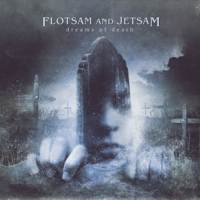 A: Hi Craig, I'd like to start with the band's new album, how would you describe it musically?
C: It is along the lines of the last couple, but the heavy songs are definitely heavier, but we have other songs that are more mid tempo, like on My God. This band likes to explore many approaches to songs instead of just thrashing on every song.
A: How do you think it sounds in comparison with your last release, My God?
C: It's better in my opinion, because we spent more time writing and rehearsing it,
And we went into the studio with more solid ideas then on the last few.
A: Who did the sound on the album?
C: A guy from our hometown (Phoenix), named Tom Giatron. He is the best in town.
A: I understand the album is already doing well sales-wise, what are you current statistics?
C: The artist usually does not get a full accounting for at least after 3 months after release, but we have been told that both Germany and Canada have already reordered, and that the U.S. sold more than expected and has also already reordered more than 1 time. We are looking
forward to the official results soon. I can say that the emails we are getting are Overwhelmingly positive from all over the world.
A: What kind of a reactions is the album getting from the press?
C: Very, very positive. Of course we are getting some bad ones, but so does every other band in the world. Overall, the press has been far more positive on this one than the last 3. They seem to relate to the lyrics more on this one and they have been a bit negative on the mix, but that's fair. I even agree about that, but the budget was far less on this one than every other record the band did.
A: It was widely known that you guys disbanded a few years back, what lead to you doing a new album?
C: We never really quit, it was just A.K. saying he didn't want to tour anymore. He always said he wanted to continue recording. You just can't kill this band, it has a life of it's own. We love to record, and we love to play live, but touring would mean too much sacrifice right
now at home. But we will definitely do shows to support this record.
A: There has been a resurgence of many classic thrash bands lately, was >that an element that helped in your decision to come back?
C: Definitely not. We never really left. we still did records, we still did shows, we never actually quit. A.K. just went public with some deep frustration he was having as a band
member.
A: What were you doing the time the band wasn't active?
C: Just the normal everyday drinking, smoking and eating bad food, in between chasing strippers and other women with low self esteem.
A: One thing that the band had a problem with, is a lot of changes in its line-up, do you feel the current line-up is a steady one?
C: Actually, compared with a lot of other bands that have as many records as Flotsam and Jetsam, we really don't have that many changes. Look at Testament, or Exodus, or Metal Church, Etc. But yes, this lineup is the last one Flotsam will ever have, at least that's the way it seems now.....
A: A bit about your history in the band, when and how did you join it?
C: I was recommended by Nick Menza, that drummer for Megadeth, just after the "High" record came out. They ended up hiring both me and Mark Simpson on the same day. They had a rather long tour booked for High, and Kelly Smith the original drummer and Mike
Gilbert, the original guitarist decided they did not want to go on the tour. As it turned out, they just ended up keeping us the whole time.
A: Were did you play before joining the band?
C: I played for Nevermore just before they got their record deal. And I was in a band called Mindbomb for a while, and with a guitar player named Alex Masi. And a lot of other local Los Angeles bands along the way. Mark Simpson did a whole tour with George Lynch.
A: Somehow it seems that the band kept on releasing great albums, but never reached the same amount of media attention as other, lesser bands, why do you think that is?
C: The other bands had more image maybe, or the labels they were on hired P.R. firms to do the publicity for them maybe. Whatever it is, the fact is Flotsam is known all around the world and has a very loyal fan base. You should read some of the emails we get from all
over. You would never feel as though somehow we still had anything left to prove.
There is much love out there for this band.
A: The band has always dealt with political and current affairs in its lyrics, does the new album touch upon that subject?
C: Not at all. The new record is mostly a lyrically concept album in that there is a constant theme running through the lyrics about A.K. dreaming every night about someone close to him dying in some horrible way. Absolutely nothing political or current event oriented about
it.
A: What about the new DVD, what does it include?
C: If you are referring to the not yet released Live In Japan DVD, that will be released this winter and it is a very, very good show captured in Kawasaki, Tokyo, and has a great feel, was shot very well and the song list is very classic. We are very proud of that show and definitely look forward to its release.
A: About the making of the Straight To Hell Video, why was that song chosen for a video?
C: The label strongly urged us to do that one and it did seem to make sense. You
want to use a very heavy song for your first video of a record and that song
had the right vibe at the right time.
A: The song is a very heavy one, with the beginning sounding almost death
metal-like, is the material on the rest of the album similar?
C: Over half is. There are a few songs that are more mid tempo, and truthfully, those are the songs that I actually find myself listening to the most. The feel on the slower songs is
amazing. Many bands can write thrashy parts, so to me it's more special when you write something slower with a great feel.
A: What kind of live shows did the band do lately?
C: We just played with Hatebreed and Agnostic Front. We did some shows with Overkill and Death Angel. We played the "Thrash Of The Titans" with Testament, Anthrax, S.O.D., Forbidden and others.
A: What live shows are planned for you?
C: We just booked the "Bang Your Head" festival next June for 20,000 people in
Germany. We are in the process of booking more as I write this.........
A: That's it, take care man
C: Thank you very, very much. Flots Til Death!!
Alon Miasnikov