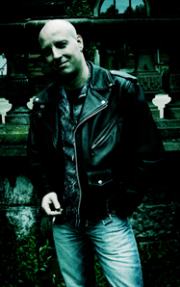 Piet Sielck has been some what of an unsung hero, he's started out playing guitar and singing with Gamma ray's Kai Hansen back in his teens, and has been involved as a producer and doing background vocals with some of power metal's greatest releases, Piet soon released his own material in the form of the mighty Iron Savior, where he both played guitar, produced, and sang.
Now Piet has yet another power metal juggernaut, in the form of Savage Circus, a band he shares with Ex-Blind Guardian drummer Thomen Stauch, and two members of upcoming metal band Persuader, and it's about the band's debut album - Dreamland Manor, that I spoke to him:
1. Hi Piet! Can you tell us the story about Savage Circus, your new band?
Yea, the band was actually started out by me and Thomen Stauch, he lives in Spain and I met him there while on holiday, and he said that he has a lot of material he wants to record, stuff very much in the vain of old Blind Guardian material, and I told him about this band that I produced and that are friends of mine, Persuader, who's vocals and style are very much similar to Blind Guardian's, so we hooked up with them, and so the band was born, with Thomen drumming and writing, and me playing the guitar.
2. What happened with Iron Savior?
It's still on, certainly, I'm now focused on Savage Circus but we're certainly doing a new album, and we plan to release it around May next year.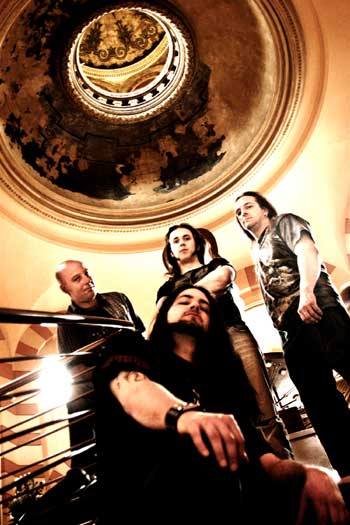 3. Is Savage Circus a project for you? Or is it a full time band?
It's definitely not a project, this is not similar to the way Kai Hansen for instance was involved in Iron Savior, this is a full time thing for me, and both bands are equally important.
4. Why did Thomen leave Blind Guardian?
The breakup was a friendly one, something which I think was important and positive, they just went their separate ways, he and the band had different ideas about the direction the band should be taking, and they decided to part as friends.
5. What was the difference in their opinions?
5. Well. If you've listened to Blind Guardian's last album, they are going into a much more grandiose and complex musical style, their music is constantly being drawn into longer songs, more complex arrangements, and Thomen liked their older stuff better, he wanted it melodic and catchy, not over complicated, he actually wrote a lot of material sounding like their older stuff, and that's were Savage Circus came in.
5. So the band sounds like classic Blind Guardian?
Certainly, it's sad that no one makes this kind of music anymore, and Thomen wanted us to do the kind of style that Blind sadly doesn't do, so yea, the direction is melodic power metal very similar to Guardian's older albums.
6. I guess that the choice of musicians from Persuader was a must, since they really sound very much like Blind Guardian, only thrashier, heavier.
Yea, actually when I recorded their last album, I was amazed at how much do they sound like Guardian, but I found out that the guy in the band that writes all of their material doesn't even own one Blind Guardian CD! He barely knows the band, so it's quite strange.
7. You've re-emerged in the metal scene with Iron Savior's first album, but how did you start out?
Me and Kai Hansen used to play together when we were teenagers, we both used to write and play guitar, and we switched turns with singing, anyone that wrote a song got to sing it (laughs), after that I went out of the business for a couple of years,
and then worked mostly as a sound engineer, I did backing vocals and session guitar for all kinds of bands, an worked on some demos and projects with smaller bands as well.
8. So how did you decide on bringing on Iron Savior?
I wrote a lot of material, and wanted to do an album myself, so I psyched myself out that I can do this, that my material is good enough and so on, and finally did the first album, it was an absolutely no budget record, I did the sound in my basement, with Kai helping out in his studio, but it was a good record and I was happy with it.
9 You've dealt a lot with Science fiction related lyrics, is that s subject you like?
9. Very much so, I was always a big fan of science fiction, but if you've noticed, the last two Iron Savior albums didn't deal as much in that.
Actually I have a story for you, when we recorded Blind Guardian's Imaginations From The Other Side in Copenhagen, we used to write and work at night, and I had the day time free, and I got bored, not that the city is boring, its just that I got bored anyway, I sat down and wrote a sci-fi story, I never really finished it, but when I went to work on the Iron Savior material, it popped into my mind, and I ended up using it for lyrics!
10. I understand the album is released in your own label, Dockyard 1, tell us about it?
Yea, Dockyard1 is a label I started out with two people who used to work with Noise Records, Christine and Dirk, I knew them for along time, and when they left Noise-Sanctuary, we decided on starting out a label of our own,
I'm now forty years old, and I really don't see myself standing on a stage and banging my head when I'm sixty, so I wanted to do something else besides that.
11. Are you focused on power metal bands?
Certainly not, we have signed Persuader, they were dropped from Sanctuary and they were an obvious choice for us to sign, but we also signed metal core bands, black metal, we don't want to be seen as "the power metal label", I'm not exactly into some of these styles, I'm more into old fashioned power metal, but we want to bring diversity into our roster.
12. What kind of live shows are planned for the band?
Well, most of the touring is planned for next year, we'll do a European tour and Japan as well, we might do some touring this year as well, but I'd rather save our energy, plus the fact that I'm going to be a father again very soon..
13. Mazal Tov! That's congratulations in Hebrew!
Thanks! So that's also a big part of my considerations, but we're certain to do a lot of touring to support the album.
Well, thanks very much for talking to man, I've been a fan of your work for a long time, and it's good to know you're still making good music.
Thanks for your support, the pleasure was all mine!
Alon Miasnikov